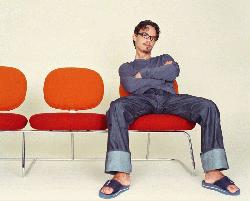 Music always played an important role in ROOG's life. He began buying records when he was 8 years old. At the age of 14 he started dj-ing at school, birthday parties and weddings. Two years later he had his first residency, playing clubs during the summer season at the beach in Scheveningen (The Hague). His style could then be described as a mixture of funk, soul and disco.

When he moved to Utrecht to study law, he dj-ed several times a week playing commercial music. ROOG spent all of his hard-earned money to buy records of a new style of music he had discovered: house music. In the years '91-'95 he could regularly be found clubbing in leading Amsterdam clubs like IT and ROXY.

In 1996 ROOG finally found himself a club where he was allowed to play house music (Axl, Utrecht). In the summer of 1997 he gained his first national
fame when UPDATE MAGAZINE labelled him one of Holland's speedgarage originators. The boys of Club Risk gave him his first break in Arena Amsterdam. After that the only way was up.

In 1998 ROOG was asked to become resident of the very prestigious S.O.A.P. (where he played alongside big names like Kerri Chandler, Joe T. Vanelli) and the very notorious kinky Wasteland parties (Amsterdam). For that organisation he also mixed his first compilation cd called TRASH (Wasteland presents Trash, NEWS/BMG).

Throughout 1999 ROOG performed solo or as a duo with vocalist Rose at major clubs and events like MTC, Silly Symphonies, Roxy, Mysteryland and Dancevalley. EMI/VIRGIN gave him the opportunity
to mix the Planet Disco Compilation, which sold approximately 10.000 copies.

In the year 2000 The Sound of Love and Dedication (UNITED/ZOMBA) was released. The cd was ritically
acclaimed by audiences as well as the Dutch music press. Cd2 of the double pack featured only HARDSOUL material produced by ROOG and his brother GREG and established ROOG's reputation of being a producer as well as a dj.

2001 brought ROOG from well known in the underground to the Dutch superleague of dj's with his mainstage performance in front of 40.000 people at ID&T's event Sensation (in the Arena stadium, home of soccer club Ajax, Amsterdam) which was also broadcasted on TMF television and Radio 538. In the same year ID&T also asked ROOG to host their weekly house and garage show on ID&T Radio called SOAP.
In the summer of 2001 the Dancevalley organisation invited ROOG to be their bi-weekly resident of Ibiza superclub Amnesia. On top of all this ROOG won the Lucky Strike Dance Award for being voted best House/Garage-DJ of Holland.

Now, in 2002 ROOG is performing big clubs and major events in and outside of Holland. He was again voted best house/garage DJ and became resident at Holland's main house radio show on radio 538 called Van Diepens Dance Department with an average of 350.000 weekly listeners).