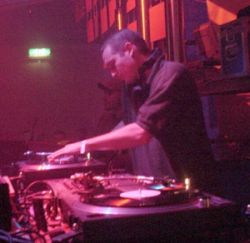 In de zeventiger jaren kwamen een hoop bands uit Den Haag. Zo ook de ouders van Remy, de Leo Unger Groep. In deze familie werd de muziek er met de spreekwoordelijke paplepel ingegoten. Remy had nog maar net zijn eerste stapjes gezet en werd met twee stokjes achter een drumstel neer gezet. Op twaalfjarige leeftijd speelde hij met z'n ouders voor tienduizenden mensen in het Haagse Zuiderpark.

Na diverse baantjes als roomservice bezorger tot tomatenplukker werd Remy in 1988 door zijn twee broers meegenomen naar de extravagante Roxy in Amsterdam. Dit was in de periode dat clubben in Nederland zijn opkomst maakte en na deze ervaring had Remy het licht gezien, liet alles vallen en besloot DJ te worden. Hij kocht zijn eerste draaitafels en mixertje en begon nachten lang te oefenen.

Al dat harde werken (om de platen te kunnen kopen) en nachtenlange sessies op goedkope snaar aangedreven draaitafels was niet voor niets. Binnen een jaar, op zijn negentiende kreeg hij van clubbing Godfather Eddy de Clercq en toenmalig resident DJ Joost van Bellen de kans om drie avonden te draaien in de Roxy. De eerste avond was nog even wennen voor Remy maar op de derde avond was wel duidelijk wat de heren de Clercq en van Bellen zagen in deze jonge Haagse DJ.

Remy's carrière als DJ was nu werkelijk begonnen. Naast de vaste avonden in de Roxy was hij tevens resident op de door zijn broers georganiseerde Silly Symphonies feesten en draaide hij op diverse party's door het hele land. Toch vond Remy dit niet genoeg en stortte zich niet lang daarna op het produceren van muziek. Net als met zijn DJ carrière liet ook hier het succes niet lang op zich wachten.

In 1992 verschenen zijn eerste producties, Traveler part1 en 2 op het Belgische label Wonka. Een jaar later zette hij samen met de Belgische DJ Sven van Hees, voor het toonaangevende R&S Records, het sublabel Global Cuts op. Uit deze samenwerking ontstonden o.a. releases als Piano Power, Tsjika Boom Tsjak en Cut the Bassline. Releases die in de dance scene inmiddels de stempel 'house classic' meer dan verdiend hebben. Dit was tevens het jaar waarin zijn eerste mixcompilaties verschenen. Silly Symphonies The Sound of Remy vol. 1 en de Global Cuts Compilation.

In 1994 besloot Remy Global Cuts te verlaten en tekende een exclusief contract met de Haagse platenmaatschappij Combined Forces. Uit deze samenwerking ontstond Remy's eigen label "just a matter of TASTE" en niet lang daarna het tweede label "Area Code 070", uiteraard refererend aan het netnummer van zijn geboortestad.
Samen met Gregor van Gaalen ontstonden producties als Flight DH 2126 en Motivation onder de naam The Wavecatcher en "Freak Freak Y'all" en "She Sings" onder de naam Remy & Gregor. Deze producties werden al snel opgepakt door top DJ's als Carl Cox en Paul van Dijk.

Inmiddels 1996, begon Remy aan zijn vierde Silly Symphonies compilatie en had de Primal Cuts compilatie en twee Mellow Moods compilaties op zijn naam staan. Dus ook als DJ had Remy nog steeds veel succes en mocht hij zich samen met DJ's Dimtri en Marcello tot de "grote drie" van Nederland rekenen.

Toch bleef het kriebelen bij de Haagse DJ/Producer en ging hij als snel de samenwerking aan met Roland Klinkenberg. Roland had toen al diverse producties afgeleverd voor het TASTE en 070 label. De live act RR Workshop werd het resultaat van deze samenwerking. Onder deze naam verschenen op het SIM en Journey label diverse producties waarvan "Mess with the Bull" door de Engelse top DJ's Sasha & Digweed op hun Northern Exposure Expeditions compilatie werd gezet.

Na inmiddels de vijfde Silly Symphonies compilatie te hebben gemixt en de DJ-championship in het Franse Cannes te hebben gewonnen schuift zijn muziek meer richting de hardere kwaliteitstechno. In 1998 vond Remy het dan ook tijd om het TASTE label een nieuwe impuls te geven. Geheel alleen dook Remy de studio in en ging aan het werk. Producties als "Backstabber" en "Home Again" deden het erg goed bij de DJ's. Door een uitnodiging van John Digweed kwam Remy in het Engelse club circuit terecht waar hij door zijn strakke mixen en opzwepende muziek ook in zeer korte tijd erg populair werd. Tevens werd hij hier geintroduceerd met de Engelse Progressive sound, waarvan de invloeden in zijn latere producties zeker terug te vinden zijn. Niet onterecht ontving hij in 2000 de Lucky Strike Dance Award 2000 voor beste Techno DJ.

Na het verhuizen van zijn studio naar het pand van Combined Forces ging Remy zich meer richten op het produceren. De floorfillers "Serious Damage" en "In your face" werden samen met de eerdere producties opgepakt door het prestigieuze Additve label van EMI Engeland. Dat de keus om meer te gaan produceren geen belemmering voor zijn DJ carrière zou zijn bleek uit het feit dat hij in 2001 wederom de Lucky Strike Dance Award voor beste Techno DJ won. Door zijn eigen producties, maar ook remixen voor onder andere de Engelse labels Bedrock en Hope is Remy internationaal gezien ook zeker geen onbekende gebleven. Amerika, Japan, Zuid Afrika, Zuid Korea, Indonesië, Maleisië en Israël zijn maar een greep uit de landen waar hij zijn kunsten als DJ heeft mogen laten zien. In Engeland heeft hij prominente clubs als 'The Gallery', 'Bedrock' en 'Godskitchen' op hun grondvesten laten trillen.

Hij draait op dit moment (juni 2003) als resident in 'Arc', New York en hier in Nederland in Rotterdam op de 'ON' avonden in Off_corso. Daarnaast heeft hij het afgelopen jaar druk gewerkt aan zijn eerste producers album dat in juni 2003 zal verschijnen, toepasselijk getiteld BANG! Met dit album legt hij de spreekwoordelijke lat weer een stukje hoger voor zich zelf.