Maral Salmassi, ken je haar naam niet dan vast wel 1 van de artiesten die op 1 van haar labels tracks heeft uitgebracht. De keulse chick runt op dit moment 2 labels en haar eerste productie, Banana Man, is net (24 januari) uitgekomen. Een mooie track met haar eigen vocalen en scherpe teksten! Lees het interview met Maral, die net terug is van een tour in Spanje, en kom er achter waarom haar eerste release zo lang op zich heeft laten wachten, waar de verschillende labels voor staan en meer over het tragische verlies van haar vriend Christian Morgenstern…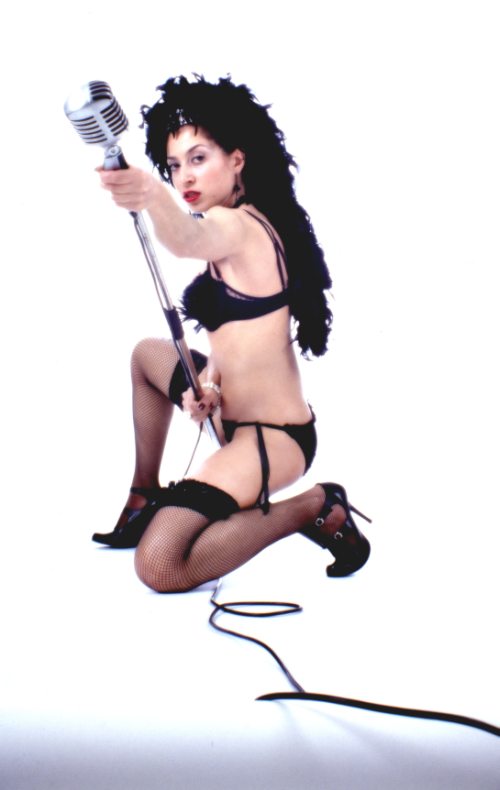 Maral, first of all, for the people who don't know you. What did we mis in the last few years?
1994: I started Deejaying. and organised several techno and electro partys in the Cologne area.
1996: Konsequent Records was born.
1997: I decided to work on an own Distribution company and started Formic Distribution together with Geregor Luttermann.
1999: I started the soundtrack label Art of Perception and beginning of 2000 Television Records.

You' did a tour with Dr. Shingo in Spain, what so special about this Japanese?
Before he released on Television he was a Forte Records Artist. I worked very close with Christian Morgenstern
and our label community was a big family. July 2003 a very sad time started for us! Christian died. To keep working with close friends. Shingo decided to release his tracks on Television Records. He is at the moment the most Europe compatible Japanese artist I would say.

You run 2 labels, Television Records and Art - of - Perception, what's the difference between these two?
Television Records is a label featuring exclusive artists like John Starlight, Dr Shingo, Dave DK, Quesh or Vadz. Television is a simple outlet focussing on pushing exclusive label artists. The concept of Art of Perception is to add soundtracks to subjects from the fields of art and media. It's not label focussing on selling artist albums.
The idea is to create limited vinyl series in co-operation with internationally established electronic musicians. For our first series "The Sound of Warhammer 40.000" we worked with artists like Jimi Tenor, Andrew Weatherall, Mike Ink, Bochum Welt, The Modernist, Heiko Laux, John Starlight, Johannes Heil, Christian Morgenstern, Alter Ego, Michael Mayer and many more.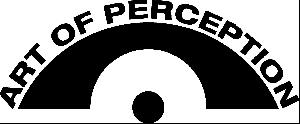 Logo van Art of Perception

How would you describe your deejay sets?
I prefer to play different styles in one set. At the moment I play a lot of acid house, minimal techhouse, also rocking electro mixed with pop music and house.

How did the tragical los of people around you change your artistic side? Did it even change?
I think big tragedies are always the reason for big changes in our life. I never expected to make such an experience so early. Christian and me were 5 1/2 year together. We saw each other every day and we shared everything. After he left there was a big hole which seemed to be endless. It took me a lot of energy and time to get back to normal life. Now I feel more fragile but in a way also stronger. If it changed my artistic side? It changed me in general. I learned a lot about life and patience.

You're a deejay since 1994 (says your bio), own 2 labels but never had a release yet. What's the story behind this one?
I was always very busy with distribution and label work. Last year I decided to start producing my own music.
I think this was also a part of the big changes in my life. I started writing songs on my guitar. Did pre-productions
of some of them and now I finish them in co-operation with other musicians like Zombie Nation, Peter of Dirt Crew and Ascii Disko. My debut release is coming out 24th of January on Television Records through Kompakt Distribution. It's a co-operation release with Ascii Disko called Banana Man.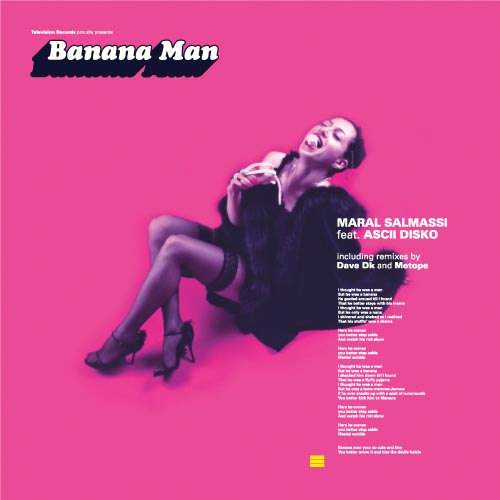 Album Cover of Banana Man


Art-of-perception has great album covers. Why, according to you, is this important and what d'you wanna tell other label owners who don't put that much effort into the design of the labelcovers?
Well the Art of Perception artwork is part of the concept. We worked with many talented comic artists of the company Games Workshop > Our licence partner for Warhammer 40.000. Product design is very important to me.

For the Dutch people who thought they finaly could hear you @ Sonar, what happened exactly?
I played at Sonar Festival 1999. In the last years we always presented a label showcase during the Sonar but not at the festival. Our events were in clubs like Moog or Loft.

Do you still party a lot? Which/What kinda party's d'you like to visit and which deejays d'you like most?
Yes I do. I like to dance and I prefer partys featuring good crossover sets. I don't like hard mono music. It's oldfashioned and over. My favourite DJ's are Ata, Tobias Thomas, Jennifer Cardini, Miguel Mendoza and many more. Favourite live acts: Zombie Nation/John Starlight, Dirt Crew or Schaeben & Voss.

Can you give us a top 5 of favourite tracks?
My favourite tracks at the moment are:

1. Mike Ink – Paroles (Mike Ink Remix) - Warp
2. TBA – Smattack (Thomas Brinkmann Remix) - Traum
3. Acid Pauli feat. Johnny Cash – I See a Dark(er)ness - GEMA
4. DJ Koze – Brutalga Square – Speicher
5. Quesh – Candy Girl – Television Records

Discography

-Maral Salmassi presents Nu Forms of Techno 2CD (Zoomshot)
-Diabolus in Musiker / Compiled and mixed by Maral Salmassi CD (Konsequent)
- The Kanzleramt Years / Compiled and mixed by Maral Salmassi CD (Kanzleramt)
-Maral Salmassi presents "It's not just about skiing…" CD (Forte)
-Maral Salmassi Vs. Ascii Disko – Banana Man
(Inc. Metope and Dave DK Remixes) 12" (Television Records)

Coming Soon:

Maral Salmassi – Robot Queen 12" (Television Records)
Maral Salmassi – Get on Top 12" (Television Records)

Maral Salmassi Biography

Maral Salmassi started her career as a DJ in 1994. Only a short time later she could be found as a resident DJ in various clubs in the Cologne area.
In 1996 Maral Salmassi decided to take a look behind the scenes of the music biz by working in the record distribution business. During this time she came across the broad variety of underground related music, especially techno and electro from Detroit and smaller underground labels from Germany. She noticed that there was a need for spreading the more unknown stuff, especially electro, and pushed this music.
After finishing university in 1997 she started her own techno label "Konsequent records", which evolved into one of the leading labels for techno music in Germany and she became a founding member of "Formic Distribution", where her love for techno and electro music developed into a serious obsession, which allowed her to support this music even more.
Maral Salmassi continued Djing in all these years and got well known for her furious DJ sets worldwide (Sonar Festival/Barcelona, Benicassim Festival/Valencia, Tresor/Berlin, Stammheim/Kassel, Grooveparade/Barcelona, Womb/Tokyo, Cube/Tokyo, Moog/Barcelona, Love Parade/Berlin, Rotefabrik/Zürich, Copeilia/Madrid, Loft/Lausanne, Matrix / Zürich, Studio 672/Cologne, Danube Rave/Linz, Explosiva/Turin, Ozon/Nagoya, Prag/Stuttgart, M1/Stuttgart, Electric/Tel Aviv, …) and organised several techno and electro partys in the cologne area.
In 1999 Maral Salmassi decided to build the label "Art of Perception" in order to be able to express her vision of electronic music in a unique way. During this time she stopped her activities in the distribution business to concentrate on her soundtrack label "Art of Perception" fulltime, which was a success right from the start.
In 2001 she started her new outlet Television Rec. Feat the artists John Starlight, Kitbuilders, Codec & Flexor, Solar, Style In aka Ural 13 Diktators and many more.
At the moment she works on an album coming out in November 2005. She released several Mix CDs and her compilation "Nu Forms of Techno", mixed in 1999, is regarded as one of the outstanding compilations of the genre.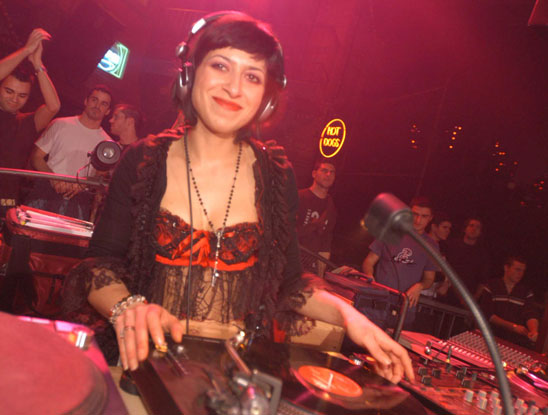 Maral Salmassi @ Club Florida in Spain (januari 2005)