You are performing at a joint ExtremaMusic, Elite Music Management and Ovum records event in the Melkweg during the Amsterdam Dance Event on the 27th of October. Can you tell me how these three parties came together and joined forces for this event?
Through management and the crew at Extrema.

You were here last year during the Amsterdam Dance event too when you performed at club Panama. Are you looking forward to coming back to play in Holland again?
I really enjoying playing music in Holland. The crowds are usually open for the music I have to play, whether it be house, tech house or techno.

Benny Rodrigues and Michel de Hey will be joining you behind the decks at this year's ADE event and the party is even dubbed " Josh Wink and friends"…Can you tell us a little bit more about the friendship you have got with the two of them?
I have known Michel for years! I think close to 12 years. He has become a good friend of mine during this time and I enjoy keeping in touch with him, let alone, playing beside him, which is always fun!
I met Benny several years back when King and I played at the Nighttown club in Rotterdam. He came up to me at the end of the night, as a 16 year old and wanted to tell me how much he enjoys the music I make. I remembered this quick meeting as he seemed really genuine and nice. Well, years later, we meet again and he ask if he remembers meeting him. I said yes. He was shocked! Now 6 years later, we play at clubs and festival with each other. He is still genuine and nice and has developed into a really good dj and someone who knows so much about music. I enjoy having him in my life as well.
And for the record. I didn't know it was going to be called "Josh Wink and friends". I thought the night was to be called "Josh Wink , Michel De Hey and Benny Rodrigues"


Josh Wink taking a picture from his friend Benny Rodrigues @ Extrema Festival 2005

What can we expect from you there? Will you guys be playing a back 2 back set, maybe?
I don't know what the situation will be. But, we're all friends… So, who knows. It sounds fun to play back to back! I just know with their music at the melkweg, it will be a great night!

Most people that have come to Holland have at least sampled the Dutch weed. Have you ever smoked weed while you were over here?
Once. I don't really indulge in the café scene

We have seen you play with both Final Scratch and with ordinary records. Which do you prefer and why?
I've taken over a year off from playing with Final Scratch. And am playing with mostly cd's and records now. Will be back to using FS Traktor soon. I stopped using it because I didn't like the way I was choosing songs. Had nothing to do with the software/hardware. I just needed a break from playing with it. I like to always switch things up after a while!

I've read in several old interviews you have got a problem with your back and being the a dj on the road can be extremely back-unfriendly at times. What is the most uncomfortable situation you have been in while in the road?
This is one of them. Jet lag, customs, immigration, no sleep and working in heavily smoky venues is some of the other hardships of my job!

For the Dutch peeps, including me, who were on the Soulcialism party in Essen (Germany). You were booked for the Geplöckel Kammer for a long set, why did u have to quit early?
I love this party! Last year was great and this year was fun as well. I had a flight to catch, and I wanted to make sure I made it on time, with no stress. I was told I was to only play until 7AM anyway. I loved the fact that so many dutch peeps were there! That was awesome! Thanks for making it out too!


Josh Wink @ Soulcialism

You come from Philly and you still have a residency in a club over there if I'm correct? (every Wednesday once a month ? ?). How important is that residency for you?
It used to be really important to me. Now, as I travel so much, I've missed several of these parties a year and it has suffered because of it. As, people don't come out, because they don't think I'll be there that week. But, it's nice having a fun small party in philly.

Do you think there is a difference in clubbing culture between the U.S. and Europe?
Yes, a huge one, which will take up too much time to write now.
But, mainly: the scene here doesn't have a good underground scene. It's mostly hip hop, rap, top 40 commercial and rock/alternative. The clubs play cheesy dance music, progressive and trance, and want bottle service like in Miami. There is no radio that supports underground electronic music, no MTV stations that play it and no real magazines that specialize in it. Plus, one of the main reasons for no real support is that there is a drinking law here, where you have to be 21 to get into a club… I can go on for a long time…

You have cut of your afro some time ago and I've heard rumours about a special project involving your hair and music production…Can you tell us a little bit more about this project?
Yes, art installation for galleries. A year long once a month picture process. 12 months, 12 pictures (one a month) a journal, and music that is influenced by my hair it's length and my feeling in that hair style. I can get more into it. But, that's the gist. I've started from a shaved head Jan 21st 2005.

Paul Frank is your main sponsor. Can you tell us how you got this sponsor deal? Does it include free goodies for you AND your friends


He's not really a sponsor. Just a company that believes in me and who I believe in. I'm really good friends with the main marketing guy there and we've been friends for a long time, so, he sends me stuff, and I like to wear it, plus we do limited t-shirts in conjunction with Ovum's yearly party in Miami.

Your album HEREHEAR is one of my personal favorites. What album, you produced, is your favorite and why?
Thanks! This album as well. Diverse underground electronic music. I love doing this kind of thing. Oh yeah. I ike 20 to 20 a lot as well!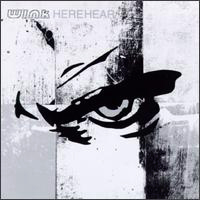 Cover of HEREHEAR

How is Ovum doing at the moment and what can we expect from you in the near future?
We're happy to still be around putting out good diverse house music. 10 years. This is something to be proud of, which we are! We have new projects from D'julz (France) Loco Dice (GER), Nick Chatalain (ESP),Pete Moss (USA), Dj Yellow (France) along with a new mixed cd from me featuring a couple unreleased wink tracks. Lots of good stuff! Oh plus a new follow up to "Ovum: Fall Collection".

What is your favorite food? Vegetarian Indian

Your shoe size? 43

Are groupies annoying? Not mine! HAHAHA!

Thnx to Kurtine Frank from Extrema Music