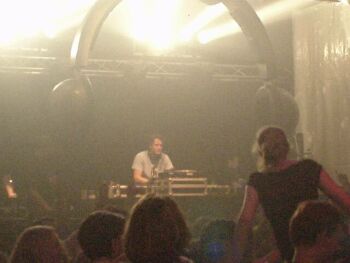 Erick E has release his brand new compilation "Solos Session 1". Recently nominated as "best house DJ 2001/2002" at the Dutch Lucky Strike Dance Awards, Erick E is definitely one of the best and most all-round DJ's in The Netherlands. He profiles himself as a dedicated groove & rhythm DJ. Erick's DJ career started back in 1986. In only a short period of time, Erick E became one of the most popular DJ's in Amsterdam. In 1989, the talented Erick E became the Dutch DMC Champion and a year later he was a DMC World Championship finalist in the Royal Albert Hall in London.

A few years later he collaborated with Dutch producer Olav Basoski producing floorfillers "Don't Turn Your Back" by Pancake and "Villa Ducato" by Sil, which were both released through Amsterdam's Work imprint. In 1995, Erick launched a weekly residency at Amsterdam's legendary club RoXY. His Saturday night "SWET" quickly became one of Holland's most popular clubnights. In 1998, the RoXY sadly burned down and his residency came to an end.

As one of Holland's most in demand DJ's, Erick E played pretty much every club, party, event in Holland (from big to small, from very commercial to underground) holding monthly residencies at Now&Wow, More, Club Stalker, Winkel van Sinkel and Club EVE where he invited guests like David Morales, Deep Dish, Junior Sanchez, Yousef, Phats & Small and Felix da Housecat. He also played at various prestigious clubs around the world, such as Haoman 17 in Jerusalem, OXA in Zurich, Pacha in Spain, Amnesia in Ibiza, The Mix in Miami, Crobar in Miami, and TLV and KU in Tel Aviv. His own recordlabel "OneStar Recordings" has released records like "Amsterjam" by Erick E himself, "Sunblairity" by Matthew Dekay and "Magnitude Prefic" by Francesco Pico. One of his latest tracks entitled "This Category" by Erick E & Matthew Dekay appeared on Sander Kleinenberg's Essential Mix CD. This track proves he's heavily influenced by his favorite DJ's Danny Tenaglia and Steve Lawler.