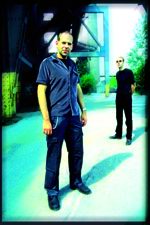 Acid Junkies is a dance act from The Netherlands. Live, they present themselves with a mix of solid techno music, played live and edited and enhanced with fragments of all kinds of dance music, spanning the last 20 years. From synthi-disco, via EBM towards house and techno.

On singles and albums, the band's music has gone through a comparable evolution: Having started with the purest acid house music from the USA as a source of inspiration, the Acid Junkies add more and more modern elements to their music over the years. As a result, an entirely new sound has come into existence, both technically and musically. The name of the band might be the only memory of their past, musically speaking the band already steps into the future.

The Acid Junkies started in 1992 as producer Stefan Robbers' solo project. It was his way of saying 'thanks' to all the originators from Chicago that injected such large doses of psychedelia into house music. The Part 1 EP on Eindhoven's famous Djax-Up-Beats label became an instant success and soon the Acid Junkies were a real band.

The first Acid Junkie is Stefan Robbers, one of the main artists responsible for turning the city of Eindhoven from Philips Light Bulb City into Techno City through his records as Terrace, Florence and REC and of course through his own Eevo Lute Muzique label.

His partner in crime for this operation is Harold de Kinderen, who provided Stefan with the Roland TB 303 he used for the first Acid Junkies EP and who has been a full band member since that day. Harold used to be a DJ for a drive-in show and played drums in various local bands. These days the band is assisted occasionally by Ronald Spanjers, who has by now earned the nickname "third Acid Junkie".
With Harold the Acid Junkies became a regular band, one that also performs on stage. Night after night they direct the crowd from behind their piles of analogue synthesizers on stage. The Acid Junkies can play an audience like one of their synths and can bring the biggest cynic into full-blown ecstasy.

And so the Acid Junkies became known as one of the best live dance acts throughout the world, with one exception. In their native Holland they were virtually unknown until a couple of years ago, when finally the Dutch gave up their fascination with foreign techno and embraced the Acid Junkies. Since then, they do there what they have been doing all over the world: play. They have performed live shows at just about every major rave in Europe, like Germany's prestigious Mayday, as well as major Dutch festivals such as Noorderslag, Lowlands and Dance Valley. The band also conquered Chicago, where they shared the stage with their one-time heroes Roy Davis, Robert Armani and Woody McBride.

In the mean time a few more EPs and 2 albums saw the light of day. These releases are renowned for their added entertainment, in the form of cardboard TB303 construction kits, collector's stickers, connect-the-dots pictures, voting forms and other gimmicks. Needless to say the element of humour is a very important one in the band, a feature not unique, yet quite rare in the dance scene.

All of the music is recorded in Stefan Robbers' E-town Studio, which is in its third phase after remodelling and reconstruction. However, the band also records tracks direct from the PA system when a certain live atmosphere is required. They are even known to erect the entire stage setup in a hotel room on tour so they can work on new material.

Their third album EU (1998) is a bit of a surprise: electro, disco, chemical and even drum & bass are incorporated in the trademark Acid Junkies sound, a blend that works surprisingly well. Release number 303 on Djax-Up-Beats is a special one, on which they team up with Miss Djax herself for some fresh tracks.

Their next album Jackpot (1999) was completely digitally recorded in two stages: The first one was used by the band to concentrate on playing the instruments used as live as possible, the second one was a completely separate digital mixing and production sequence. De TB-303 plays a less important role on this release, more attention was put into the arrangements, percussion and melodies. The band wants to do more than pure acid songs, and are building a more all-round techno repertoire, starting with this album.

The first sign of this change presents itself in august 2001, when the band release a new single, called 'President Incident' on a newly formed German label called Acid Tracks. On one side of this record, 2 funky techno tracks with catchy samples appear, while on the other side they once again redefine the word acid in the music.

In November 2001 a new CD album, 'Live' was released. Forced by continuous demand from their fans, the Junkies delivered a live album. It contains a live recorded set from October 2000, taped at a venue in the band's home base Eindhoven, the Netherlands. For the album, this live set was completely edited and remixed. Furthermore, several additions were made in the form of new songs, which came into existence during sound checks for this concert. The Live album marks the end of an era for the band, after a long period of combining acid house and techno on a live stage. In 2002 the Acid Junkies present a completely new live set, with many DJ influences such as the use of fragments of records from the last 20 years, from old to new, combined with sampled song parts, live drum programming and electronic locked grooves.