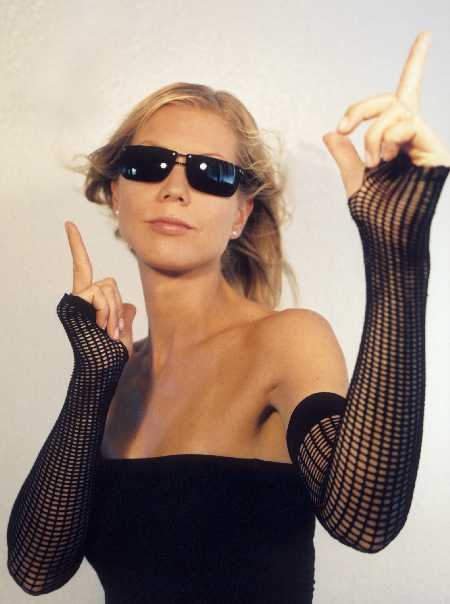 An exclusive interview with Groovetrackers.com: Click Here


while studying for her pedagogic and psychology degree, miss yetti (aka henrietta schermall) was living opposite the delirium record shop in cologne, germany.

inspired by the local music vibes and influenced by j.burger, sweet reinhard and michael mayer, she bought her first records at delirium in 1991.

due to a cancellation, she got invited to play her first big gig at the orion rave in bottrop 1992. a raveline interview, made right after her impressive set, got the newly discovered djane immediate recognition.

she was offered a first residency 1993 at the well known ufo club in cologne.

after meeting liquid records owner thorsten stenzel at an "after hour" back in 1994, both started cooperating on productions. tracks like "it's a dream", "la pression innovative" and "les yeux superieurs" quickly became leading underground club hits.

around the same time, yetti did organize her own series of parties at the famous wartesaal venue, filling a musical gap between minimal house, atmospheric future music and dark techno. she received support from djs like paul cooper, oliver bonzio, chris dis …

with yetti's personal musical preferences drifting towards the detroit underground and thorsten stenzel preferring the commercial techno, slowly their ways split.

because of her studies, yetti moved from cologne to berlin in 1995. together with the brain, yetti published "the underground kitter", "the missing knife" and "pad unique" on the berlin monokultur label in 1996.

the same year, yetti did impress the mayday audience with her euphoric, brilliant, melancholic sound. she made the track "neo pren" especially for the mayday compilation.

again on liquid records, she did release "l'attaque", "la femme longue", "painful experience", "unagi" and "new ways".

aiming to provide expansion for future experimental musical trends, yetti founded the label "gold und liebe" with oscar comas in 1998. they did a first release called "versus ep".

one year later yetti continued the label by herself and split the work with oscar comas. productions of antonio montana (alias johannes heil), neolectric and l-sega followed.

all resulted in yetti being chosen "best female dj 1999" by the readers of the raveline magazine.

while constantly touring the world with a dj bag, yetti released "helden" with die zauberer on her own label in 2002.

the same year she did cooperate with marco bailey for a double cd for dj-sets.com. and in november miss yetti's first solo mix cd was released under the austrian xxx label.

early 2003, her maxi release "ganz nah" on gold und liebe tonträger appeared in the record stores.

hereby she established a new creative period, with also the release of "hedonism and digital sex" in may which was in excellent cooperation with j. breaker and has resulted in the production of her own album "out of control" which was released in september 2003.

in november 2003 followed the remixes from david carretta and robert görl on gold und liebe 13.

in april 2004 miss yetti released her maxi "timebombs in my brain" and at present she is working on her new album, the remix for ricardo vallalobos and the musical project with robert görl (daf). in october 2004 her track "stranger" will appear on the "berlin-insane" compilation from pale-music and her track "destroyed love" will be released on david carrettas label "spacefactory".
as well as being a graduate psychologist, she is planning her doctor's degree in connection with personality structures and musical preferences.