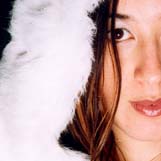 The "Fist lady of Breaks" 10 Sui will tantalize the audience with her fine vinyl and turntable trickery at the "Extrema Music, Elite Management, Ovum & Friends present .. " party at Club Panama in Amsterdam on October the 22nd. Dutch dance website Groovetrackers.nl sat her down for a short interview, but is kind enough to let us put it up as well.
10 Sui will do the kick-off @ 10 o'clock.
Tracie, i have been told you are "The First lady of breaks". What do they mean?
Danny Mcmillan who's a longstanding member of the breaks scene heralded me with that moniker - compared to the boys there aren't that many ladies in the dance music industry and even less so in breaks - so he gave me the title as pioneering the way for other ladies to come through.

Your real name is Tracie Storey, what's the story behind your dj name "10 Sui"?
10 SUi has its' roots in my Malaysian heritage - it's a family name.

Your biography told me you grew up in the North of Wales, what's that like?
Wales is a very beautiful and peaceful place with lots of fresh air and mountains. There's not too much going on though which is why i re-located to London 9 years ago.

What's your vision on being a deejay?
Djing is way of creating a space where people can have a journey - more of an experience through sound. For me it's about putting the right tune in the right place at the right time. Any DJ will tell you when they're in the flow, the music speaks for itself, so being a DJ is like being a channel.

You're booked for a OVUM party at the Amsterdam Dance Event, ever been to Holland? Looking forward to it?
Yes, have been to holland a few times, Queens day is always a favorite, you can't beat spinning outside! Played the Winkel Van Sinkel a couple of times over the years too.

What can we expect from your gig?
You can expect something a little different, you'll have to come along to see, but lets just say it'll be an ear-opener!

Can you tell me something more about your co-operation with Josh Wink?
Sui'shi is the label which will be starting up next year. There is also some exciting collabs taken place, yes with Josh which is also going to be next year.

You will release a record with vocals soon, done that before?
The vocal record is called The Power and features a singer called Yolanda, it will be released on a label called Heavy Disco www.heavydisco.com next month - this is the first release to feature a full length vocal track. Other productions have featured vocals but not to this degree.

You've spunn all over the world, what's the best place to party?
Best place to party has got to be the Burning Man Festival, in Black Rock City, Nevada desert, The Sunrise set there has to be the mother of dj sets - a soundsystem outside with thousands of people with not a building, or a road in sight just hills desert and miles of sky…..incredible.