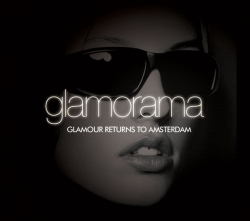 Drie jaar na de laatste editie komt het bekende glamarouse feest Glamorama weer terug. Zaterdag 11 december aanstaande zal er weer een nieuwe editie plaatsvinden in The Powerzone in Amsterdam, onder de naam Glamour returns to Amsterdam. Je kan nu ook kaarten winnen voor dit feest, hier op GT.com!
Het is triest gesteld met de feesten die zich glamorous voor doen in Amsterdam en omstreken. VIP podia met plastic Champagne glazen, B merken lauwe Champagne, literflessen frisdrank, toren hogen entree prijzen, geen toegevoegde waarde aan decoratie of entertainment.

Iedereen die 3 jaar geleden op Glamorama meets the Betty Ford Clinic was kan zich nog herinneren hoe het wel kon . De Quote schonk er aandacht aan in zijn Q cam en RTL 4 BLVD had er een item over van maar liefst 5 minuten, de filmploegen vielen over elkaar heen. Nu 3 jaar later "GLAMOUR RETURNS" GLAMORAMA GLAMOUR IS BACK. Eindelijk weer je mooie Gucci creatie met je Louis Vutton tas en D&G muiltjes aan. Iedereen laat zich van zijn mooiste kant zien; de vrouwen schitteren en de heren…. die weten niet waar ze moeten beginnen. Dit alles ondersteund door een top line up, zinderende performances, decoratie, champagne en cocktailbars. Kortom GLAMOUR returns to Amsterdam "GLAMORAMA GLAMOUR IS BACK" Saturday 11th of December 2004

Voor meer info ga naar www.glamorama.nl. Meld je aan en maak kans op 2 vrijkaarten!