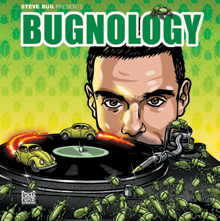 Het nieuwste mix avontuur van Steve Bug heet "Bugnology". Enige tijd geleden maakte de nieuwsbrief, van een van de succesvolste minimal labels, Playhouse bekend dat er een nieuw mixalbum aankwam. Veel konden ze er toen nog niet over zeggen, wel dat het "far beyond the regular mix concept" zou gaan. Direct rezen er vragen wat dat dan in zou houden. Sinds vandaag weten wij dat alle 19 nummers op het nieuwe album deels zijn gereconstrueerd met behulp van speciale software. Lees oa verder voor de trackslist en download hier samples van de nummers!
Steve Bug, Poker Flat label head and one of the world's leading minimal house producers is back with a brilliant mix-compilation. BUGNOLOGY is not your regular mix-cd – all tracks have been partly reconstructed using special software. The result is an elegant and adventurous flight through today's modern house music.
"The aim behind this CD has been to create one flowing body of music with a number of my favorite recent tracks, using software as opposed to conventional dj mixing tools. The tracks have all been edited, looped, lengthened or shortened to make sure all parts fall into place harmoniously - some tracks have been manipulated more than others to achieve what i was looking for, but maintaining the original flavour and beauty of each and every track and the story it tells stayed constantly important." states Steve Bug.
The album features tracks and mixes from artists such as Josh Wink, I:Cube, Steve Bug, ADJD (Alexi Delano & Jesper Dahlbäck), Justus Köhncke, Charles Webster, Freestyle Man, Guido Schneider, Stefan Goldmann and others.
Om samples te downloaden, klik je met je rechter muisknop op download en kies je voor opslaan als (save as)
Tracklist Steve Bug presents Bugnology by Steve Bug
1 - Legde produced 2004 | produced by Patrick Chardronnet
DOWNLOAD
2 - Garrulous produced 2004 | produced by Justin Maxwell
DOWNLOAD
3 - Anyway produced 2004 | produced by MatthiasTanzmann
DOWNLOAD
4 - Minikool (B.'s edit) produced 2004 | produced by B. | remixed by B.
DOWNLOAD
5 - Soul Sounds (Freestyle Man Dope mix) produced 2004 | produced by Sasse | remixed by Fesstyle Man
DOWNLOAD
6 - Beddy Byes produced 2004 | produced by Jimmy 19
DOWNLOAD
7 - Chicago produced 2004 | produced by Claro Intelecto
DOWNLOAD
8 - The Sad Piano (Charles Webster mix) produced 2004 | produced by Justin Martin | remixed by Charles Webster
DOWNLOAD
9 - Heaven produced 2004 | produced by Cem Salman
DOWNLOAD
10 - Oblivion (Dixon's edit) produced 2004 | produced by I:Cube | remixed by Dixon
DOWNLOAD
11 - Zardoz (Stylophonic Live'n'Direct Mix) produced 2004 | produced by Boogie Drama | remixed by Stylophonic
DOWNLOAD
12 - Shimmer (Josh Wink Groove Mix) produced 2004 | produced by Stefan Goldmann | remixed by Josh Wink
DOWNLOAD
13 - Re-Moved produced 2004 | produced by Guido Schneider
DOWNLOAD
14 - The Darkness produced 2004 | produced by Audiomontage
DOWNLOAD
15 - Loverboy (Guido Schneider remix) produced 2004 | produced by Steve Bug | remixed by Guido Schneider
DOWNLOAD
16 - In Your House produced 2004 | produced by Tigerskin
DOWNLOAD
17 - Saltvann (Prins Thomas remix) produced 2004 | produced by Kango's Stein Massiv | remixed by Prins Thomas
DOWNLOAD
18 - Audio Mechanic produced 2004 | produced by ADJD
DOWNLOAD
19 - Timecode produced 2004 | produced by Justus Köhncke
DOWNLOAD
Thanks to Pokerflat