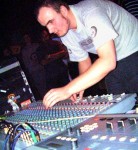 Real name - Peter Sliwinski. Polish-Canadian producer and dj. Grown in Windsor, Canada.


Influenced by the local Detroit Techno Scene. Started recording in 1994. His first release was available only on cassette under the name of Vocodic Sfera. His first ever dj gig in Rome, Italy. At the age of 16 fell in love with beats of Roland drum machines. Still incurred. Played his first live performance Vancouver 1996. That same year his first ambient album as Les Autres Circuites was released.


Studied sound engineering and electronic music composition. Received as a gift his first modular sound system from his teacher that had set a path for his creative output for years to come.


Came back to his native land Poland in 1997. That year his Echoplex project was invented as a live concept first, as a producer name after. In the meantime recorded music for film, gained award for music for the documentary of the year, won scholarship to film academy in Kiev, didn't attend it, only he knows why.


As the only "woman" in the world released his/her single under a moniker of Digital Princezz on Cristian Vogel's Mosquito Records. Consequently licensed a track to Tresor Records.


Began venture with Damon Wild as Niteworks in 2001 on Synewave Records-5th part of that project available now.


Gave birth to his first creative label Soleil Records in 2002. Has put out 9 releases so far. As a result toured Japan for one month. Recorded Live pa in Japan on Soleil. Created Soundlite label on Christmas 2004.


His newest album as Echoplex titled Salto Mortale coming out in April 2005 on Soleil Records. His third label in works to surface soon.


Now being almost 30, after more then 30 releases still full of enormous energy, drive and ideas. His head is full of light.
Performances