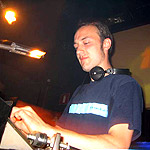 Seba Lecompte is one of the driving organising members of the SoundAttack collective. He is active with music since 1994. His first contacts with music came by exploring his parents record collection in his childhood. Influenced by some older friends he discovered electronic music. Seba began to collect his own records and started to deejay at the age of 13.

In the beginning he played a mix of all kinds of electronic music but influenced by the sounds of Detroit his style evolved to a mix of tech-house over minimal, melodic and pounding techno.

As Seba finds most techno deejays too monotone, Seba tries to put more variation and melody in his sets. To achieve this variation Seba sometimes battles with another SoundAttack deejay Shimakum on 4 decks and 2 mixers.

Over the years Seba played as a deejay all over Belgium. Highlights of ten years behind the decks are his sets at places like Fuse, Kozzmozz, 10 Days Off, I Love Techno, Decadance, The Zoo, Muzzic, …

Seba is also slowly starting to spread his vibe abroad: he recently played at club Folies Pigalles in Paris and Paradiso in Amsterdam.

Besides deejaying Seba is also active as a producer in a project called Wings of sound together with Kim Kurz, another SoundAttack member. Comprising of a mix of house through to melodic techno, this duo know how to make you move.

Together they performed several live-pa's in Belgium to strengthen their production and performing abilities.

In 2004 this duo released their first ep on a London based imprint called Eukatech. Recently their second 12" was released on Floor Music, another Uk label. At this moment they are working on the final details of some new material and have many plans for the future.

Besides music Seba is also passionated by photography. He studied art education and has specialised in audiovisual arts. You will almost never see him without his trusty camera by his side capturing the spirit and the vibe of the party scene.
Performances