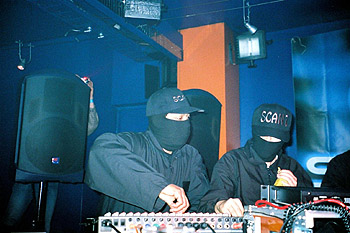 Originally born in the late 80's, Scan 7's first release, "Voices Beyond", came out on the Submerge compilation, "Escape Into The Void".

He unleashed projects such as "Introducing Scan 7" and the "Undetectable" EP, both on Underground Resistance, as well as an exclusive "S.I.D." EP, entitled "Invisible Thoughts".

Trackmasta Lou's first contact with Tresor came from his outstanding work with UR. and he proceeded to release many rare records on the famous Tresor compilations. Later Trackmasta Lou put out two collectable albums with Tresor, "The Dark Territory" and the "Resurfaced" album. Both were laced with a deep dark dose of classic Detroit style techno, with the imprints of the Scan 7 trademarks drums.

Trackmasta Lou then went on to form, what is now, the legendary Scan 7 live act! The group is most famous for it's ninja-like appearances, often dressed in black flight suits with black masks and hats, they use code names to protect their true identification, they believe its not what you see, but what you hear, that is the most important element in techno!
Performances