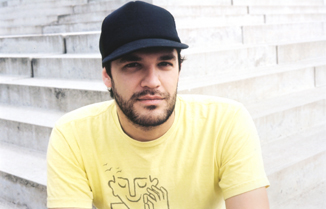 One could say, that Michael Vater aka Phonique was mostly on the go like only a few other peolpe were in Berlin since the mid of the 90's, when he moved to there.

His very successfull and much loved parties and club nights paved him the way to become one the nice guys in Berlin's nightlife. First he only organized the parties, after a while he started to DJ himself and "DJ" Phonqiue was born.

Since January '98, Phonique continues to bring previously lesser known djs and producers to berlin for his club nights and parties, presenting many consolidated evenings with djs like Glen Gunner (street corner symphony/block 16), Lil Tony (Nu Spirit Helsinki/Guidance), Alexkid (F-Com/Ovum), Llorca (F-Com/Brique Rouge), Joakim (Tigersushi) or Ivan Smagghe (Blackstrobe/Volga Select).

In the meantime, Phonique continues to develop his "freestyle" profile. His guests are treated to a splendid mix of everything from hip-hop, via break-beats and old school, to drum and bass with just about anything possible on the way, so long as the tracks have the neccacery "type of groove". He invited DJs like LTJ Bukem, Richard Dorfmeister and many more.

Travelling the world and playing clubs in Helsinki, Paris, London, Marseille, Vienna, Brussels, San Francisco, Pragues, Tel Aviv, just to name a few destinations, Phonique never forgot his Berlin base, his residencies at e.g. Tresor. and Pfefferbank, where he brings his 'Club Paris' evening to life with guests like Pepe Bradock, DJ Deep, Jori Hulkkonen and i:cube. from time to time Phonique, together with his partner Kiki, present their
Quadrophoniquekikz' on four turntables. they released their first 'Quadrophoniquekikz' mix-cd in 2002 on Komfort Musik!

Due to his releases on Intim Recordings, he also did a once a month residency in 2002 together with the label boss Martin Landsky, in the Sternradio. Since then Phonique plays regulary at one of the two clubs of the 'no ufos' crew, either the Sternradio or the polar-tv.

His first two 12" releases were out now on Martin Landsky's Intim Recordings, and from then on Phonique released on labels like Komfort Musik (Berlin), Seasons (USA), Brique Rouge (Paris), Crosstown Rebels (London), but mainly on Steve Bug's labels Poker Flat (for his more minimal productions) and Dessous (for his deeper side).

His first remix was for the french label Bazoline, the artists: Doctorolive. After that remixes for Frankman (Draft/Fm), Soulcamp (Soulcamp), le tone (Naive), Funky Transport (Brique Rouge), Tonic Agents (Highgrade), Detroit Grand Pubahs (Poker Flat) and Erlend Oye (!k7) followed.

Besides Phonique's remixing talents, with djing with cd's he also started to edit tracks in a way, they make more sense for his kind of dj-sets. When Jazzanova found out about his love for edits, they ask him to do some edits for their use. So Phonique worked out some edits together with his buddy Dixon and some on his own. Edits for Georg Levin, for a DJ Spinna remix for Georg Levin and for Sirius Mo even made it to be released by Jazzanova's Sonar Kollektiv label.

Phonique mostly works together with Alex Krüger (Dub Taylor / Korsakow / Tigerskin) for his productions/remixes, but from time to time he is cooperation with other artists or musicians like Steve Bug, David Duriez & Phil Weeks, Martin Landsky or Meitz.

As thanks for all his efforts, Phonique was voted in the Prinz magazine poll, one of Berlin's 5 most loved DJs (2000), along with such major producers and DJs as Paul van Dyk, Westbam, Jazzanova, and DJ Tomekk….

Now, 2004 seems to be a great year for Phonique.

His second 12" on Dessous "The Red Dress" climbed on top of the officiial German Club Charts (DCC) and became one of the hottest tracks being played by almost every tastemaking DJ in Europe, he worked on the Erlend Oye's DJ-Kicks for !k7 (technical/mixing consulting) and actually played several tourdates with Erlend all across Europe.

Furthermore he made a mix-cd "Erotic Moments in House Vol.3" for his home-label Dessous, was working on one track for Steve Bug's next album and has an upcoming release on "Kitsune", one of the hottest labels from Paris.

But as a cherry on top, his last year's highlight did come out in autumn 2004, his debut album for Dessous, featuring some very nice tracks in collaboration with e.g. Paris The Black Fu, Erlend Oye, Alexander East (Minneapolis), Ian Whitelaw (Glasgow) and Dixon (Sonar Kollektiv). Smart.
Performances