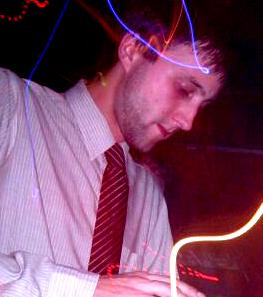 Since Ian formed Abiotic Recordings with Dustin Zahn in 2000, he has concentrated almost every waking moment to his art. Ian's music can be described as dark and minimal yet groovy and experimental. Being heavily influenced by both Swedish and Birmingham techno, his sound has taken the form of cleverly programmed percussion and ambient atmospheres to set the mood on the dance floor.

In 2001, he released his first EP on Hidden Agenda entitled Stillframes. Future releases include tracks on Glenn Wilson's Compound label, Tonewrecker, and Live Wire to name a few. His unique sound has been charted by Djs such as Headroom, and Tim Xavier as well as receiving play from Surgeon, Danilo Vigorito and more.

When writing music, Ian's goal is to make you think about the music while making your body move at the same time. Recently, Ian has ventured into the world of electro with his soon-to-be-released album on Hi-Pass Music. Once again, Ian carries over his dark soundscapes and intelligent percussion into the world of funky electro. Behind the decks, Ian is known for playing tracks by artists such as Regis, Surgeon, Petar Dundov, Glenn Wilson, and Headroom.