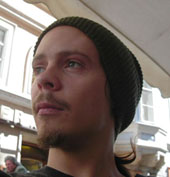 Slobodan - otherwise known as Staffan Ehrlin - was born in 1980. Between the years of 1993-1994 when he was only 13 years of age, he began to work as a devoted producer of electronic music having strong influences from Skinny Puppy, Frontline Assembly, Front 242 & Nitzer Ebb.

Later on in the fall of 1996 he started to investigate the techno scene and its dance culture. He started to buy records from artists and producers who at the time were responsible for the most pounding releases. It didn't take him long to start producing techno music himself.

He soon discovered different methods of making hard techno tracks and still keep his early influences from Skinny Puppy and Frontline Assembly. Besides producing, he began also in the year of 1996, building up his skills behind the turntables always playing solid, funky and hard.

In 1998 he released his first track. It was on the Belgian cult techno label SUBSOUNDS. The record wasn't released until early 1999 and was called FIRST BUMRUSH EP. A very suitable name considering the "bumrush" that Slobodan did on Subsounds doing the releases of Subsounds 018, 019 and 020.

Other labels that he's released on are Planet Rhythm UK, Compound, Cloned Vinyl, etc.

In the last couple of years Slobodan has done lots of gigs around Europe in countries such as Austria, Portugal, Spain etc. He has also completed two tours in the US, first a solo tour and then as part of the "refuse and resist" tour.

In the year of 2001 Slobodan was nominated as "Best Musical Act of the Year" at the annual Nöjesguiden awards in Sweden. His records demonstrate his love and knowledge of techno, while at the same time experimenting with new and innovative sounds. In 2001 he also started his label: Civic records. Due to problems with distribution, the label Civic doesn't exist any more. Instead Slobodan has now relocated to Graz Austria and has started up a new label called "Goathead Records"!
Performances