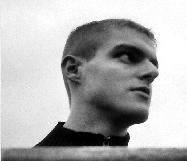 In 1997 Kr!z his passion for music got him behind the decks. During the first period this young man crossed several genres opening his view on electronic music. He didn't need much time to feel the special connection between his heartbeat and the one of energetic tribal techno.

Knowing how hard it is these days to get a well-respected place in the scene Kr!z entered several dj-contests. It was very obvious, ending most of the time with the n°1 trophy, his superb technique got very quick picked up by the Belgian scene. The story started and so Kr!z earned his spots on some of the main events in Belgium. He got invited by Kozzmozz to play their 7th anniversary and from that point on, the weekends just got busier and busier.

It didn't need much time before he got offered two residencies: Art/Fact and Polarise. Both new Belgian concepts promoting underground quality techno music. More was to come, he played Fuse, Decadance, … his demo was picked up by national radio show 'Switch' and so he was asked to join them on I Love Techno 2003 together other new talents like Bjorn dB, Sam Ostyn, David Pereira, …

From that point on his dj-schedule gets him all around Belgium and will soon be able to cross the borders. Every weekend Kr!z gets the party going with his splendid technique consisting fast scratches and vicious beat juggling. Expect funky tribal techno with hardgroove and even ghetto-tech influences.

Kr!z stood next to names as Paul Langley, Steve Rachmad, Pounding Grooves, Stanny Franssen, Jamie Bissmire, Petar Dundov, DJ Tonio, Andreas Kremer, Ade Fenton, Claude Young, Ben Long…

Played: Kozzmozz (2x), Fuse (3x), Soundstation, Art/Fact, I Love Techno 2003 switch area, Mechanizm, TechnoFusion, Footworxx, Detroit Violence, Magnee Rade, La Chapelle, Hangaar 1 etc..
Performances