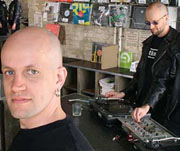 Robert Henke, born in 1969 in Munich.
I was always fascinated by technology, wanted to be an enigneer. Some day I discovered Oxygene by Jean Michel Jarre and I could not stop listen to it again and again. I did stupid jobs after school and finally had enough money to buy a Roland Juno-6. Now I was able to create strange electronic sound collages and I played in a bad gothic band.

In 1990 I moved to Berlin.
City of techno and of the Elektronische Studio der Technischen Universität.
Computer music during daytime.
Dancing at night.

I started making electronic music with Gerhard Behles* and began to study sound engineering at the Hochschule für Film und Fernsehen in Potsdam Babelsberg, where I made sound installations and film soundtracks.

One of my installations lead to my first CD Piercing Music. One of the tracks of Gerhard and me was released on Chain Reaction and we named the project
monolake.

I founded imbalance computer music to be independent while Gerhard founded the software company Ableton to create music software. I joined the team. Monolake became a Robert Henke solo project with occasional support by friends. This state did last for four years and three albums. Since fall 2004 Torsten "T++" Pröfrock adds a new note to the sonic world of monolake and now we both continue expanding our universe.

Monolake is about the exploration of sound, rhythm and structure, about the interaction between a sonic event and the space in which it happens.