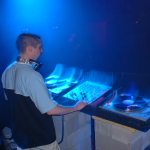 Kenan spent the first years of his life in Dallas, Texas, where he received exposure to dance music in a burgeoning acid house / breakbeat scene. Many factors contributed, including the legendary Hazy Daze events in the Dallas area at the time, the weekly "Edge Club" dance music radio show hosted by DJ Merritt on 102.1 FM, and his deep exploration of music. He had been actively involved in music performance since grade school, excelling at several instruments such as the piano, guitar, and trumpet. Longing for a more creative and forward-thinking outlet of expression, he became intrigued by the electronic music culture. He acquired his first pair of Technics 1200 turntables in 1996 and never looked back. Over the next several years, he would hone his mixing and production skills while learning as much as possible about this unique musical artform.

He is now an established DJ, having performed at many venues in U.S. cities and abroad. Some of these include:

(Texas) - Dallas, Austin, Amarillo, Fort Worth, Houston
(Colorado) - Denver, Colorado Springs, Fort Collins, Winter Park
(New York) - New York City

(Mexico) - Juarez

Kenan currently lives in Denver, Colorado and can be reached via the methods described on the contact page.