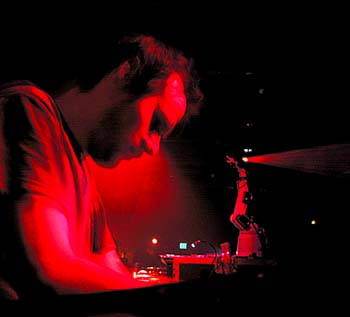 It all started when I was about 14 with my mates in Shrewland peaking in the woods with Heliosphan as comedown consolidation. Then I started nabbing my sister's Warp-when-they-were-in-Sheffield tapes which she never listened to. Then I got quite into her rare groove stuff like turn out the lights by Larry Youngs fuel. Also Hip Hop Matt has a part to play with his crunchy Rawkus delights. As well as Pip and Ians compilation tapes and Simons LFO record. The 3 things that really coined it for me though, were Theme from Earnest Borginine by Squarepusher walking to college in the winter with my headphones on really really loud and the air all fresh and frosty. Pavement's Slanted and Enchanted as well and Vletrmx (Check spelling) by Autechre which I reckon should become the eighth wonder of the world……………………………………….


Cut to 17-18 Local industry types trying to jedi-mind trick me. Me loving the fact that I was doing excactly what they told me not to do.


I made some stuff. Basic stuff. I got more things (Home-built stylus made out of a hook and some masking tape. Marbles spokes and squarewaves). I learnt abit. Not enough but more then enough. I put things through things. I recorded these things and put them through other things which then became completely different things. The result was alot of evil white noise and some naff twee wank. The best stuff was thrashy, sombre, silly, shit and exciting. The bad stuff was just bollocks.


Cut to 21 in Bristol. Having a wicked laugh. Pissed of with student shit but fuck it I'll finish soon. Run out of money.Tracks now are…still punking away and stuff is going well. Re-organised stuff. Challenging myself more. Paying more attention to my computer and less attention to my personal hygiene. Not sleeping "properly". Nailing sounds with abit more accuracy then I was about 5 weeks ago. Trying to do the best that i can possibly do coz otherwise


what's


the


point?


((((to be continued))))


Chris.

——————————————————————

Chris Clark sprang forth in 2001, with feisty, sparks flying techno rebelling against moments of dreamy, eerily sweet tunefulness on his mini-LP debut, Clarence Park. One thing was clear: there were two Chris Clarks at battle, with no clear winner emerging (apart from the music itself, of course). But both sides were great - The Guardian declared the battle "a triumph" worth 4/5. An astonishing achievement for a twenty-one year old.


The two sides of Chris Clark have duked it out over a couple of years, while the name Chris Clark spread like wildfire among the Warp faithful, creating a devoted worldwide audience. Throughout finishing his degree in Bristol, moving to Brighton and now settling in Birmingham, Chris Clark has been endlessly honing and perfecting tracks. In between there have been bursts of playing live. Traversing Europe and the US on the Warp Magic Bus tour in 2002, hitting the US again in early 2003, performing at Triptych Festival in Scotland and launching the new Logarhythm UK live collective in May with a two week trawl across the country.


The first new sounds from Chris Clark came in the shape of 'Ceramics is the Bomb' EP in May 2003. A 6 track blitz revealing new emotional depths encased in Chris Clark's familiarly fractious, erratic and irreverent styles, it again received bounteous praise and tasty spins from Nick Luscombe on XFM and Radio 1 shows Blue Room, One World and massive support from John Peel in particular.
Performances