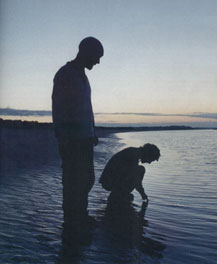 BOARDS OF CANADA: Michael Sandison & Marcus Eoin

Boards of Canada originate around 1976 when Michael and Marcus were children. Both learned to play various musical instruments while moving and relocating between northern Scotland, southern England and Alberta in Canada. Around 1980 on the north-east coast of Scotland the first version of the band was formed, not yet including Marcus Eoin in the line-up. For the next few years Mike and cohorts created experimental music using borrowed synths, drums and tape machines.

Around this time the band were starting to create home movies with a Super-8 camera. Educational television documentaries and film soundtracks were becoming a big influence on the group and the crossover between their musical creations and their film creations was becoming more blurred. The documentaries of the National Film Board of Canada were regular viewing for the young collective, and they were later to name their band as a nod to this early influence.

By Spring 1984 Mike had produced various multi-tracked works at a professional recording studio by his home on the coast. Mike, Marcus and other friends spent the early eighties making music near the beaches of north-east Scotland. They blended real instruments and voices with the sounds of home computers and found sounds from radio and television.

In 1986 Marcus joined Mike's band, as a bassist. They were the only live band in their area performing hard, minimal electronic music; (showcase gigs in their rural hometown saw them billed alongside an endless procession of glam-rock covers bands who played New York Dolls and Poison). With frequent line-up changes, by the end of the eighties Boards of Canada eventually had comprised as many as fourteen different members.

In the late eighties the band and their surrounding collective were making longer films and extensive photographic projects. The films were soundtracked by Boards of Canada. The group's work utilised brooding imagery and cryptic, psychedelic pictures and texts to achieve feelings of nostalgia, confusion, and loss.

By 1989 Boards of Canada had embarked on the creation of their own studio. The band began putting on occasional outdoor happenings. They used projections, films, monitors, and played tapes of bizarre recordings including television themes with reversed vocal messages mixed over the music.

From 1992 to 1994 various small musical and visual projects took place, whilst the band's collective Hexagon Sun began regular Redmoon nights at a ruin near their own studio in Scotland. Large bonfires were lit and guests found themselves listening to, among other things, old children's songs being mixed over steady electronic pulses. In the summer of 1995 the band and their friends officially christened their studio in the Pentland Hills Hexagon Sun, and the collective have continued their work on recordings, films and gatherings from this location. (Every year in the spring and summer Hexagon Sun hosts various small rural music gatherings, which attract many local heads.)

For some time Boards of Canada had been recording EP's and "albums" by financing the manufacture themselves, on their own label Music70, but the first of these to be released outside the band's own circle of friends was Twoism, a limited-edition collection of grainy, melancholy melodies over slow, dry electronic rhythms.

In early 1996 a copy of Twoism reached the headquarters of the electronic label Skam in Manchester, England, and within a day Autechre's Sean Booth had contacted the duo. Mike & Marcus recorded the Hi Scores EP for Skam Records. BOC brought their full live show including Super-8 and video visuals when they played alongside Autechre, Panasonic & Cylob in London in July 1996.

Skam Records and Munich's Musik Aus Strom teamed up in 1997 to release a series of very limited compilation EP's under the name MASK, the first of which included an exclusive track by Boards of Canada. The second MASK instalment contained a track by one of the band's alter-egos, "Hell Interface." From now on Boards of Canada's music was being licensed for appearances on compilation albums all over the world.



At this time Boards of Canada gave a few performances around the UK, notably including a performance at the Phoenix Festival in July 1997, using onstage video visuals which cut from Super-8 movies to "blipvert"-style subliminal messaging. BOC once again supported labelmates Autechre in Scotland, and Seefeel in London, as well as headlining for Skam in Manchester. Meanwhile they released new music under the pseudonym Hell Interface, and obliged with remixes for a handful of artists.

In February 1998, much speculation preceded the announcement that Boards of Canada had signed to Sheffield's Warp Records.
In the spring of 1998, after a remix for Mira Calix on Warp Records, and a limited edition 7" release of Aquarius on Skam Records, the duo completed an album for a joint release between Skam & Warp Records. Music Has the Right to Children was released on 20th April 1998.

The BOC debut album received excellent reviews in many music publications in the UK and Europe. "Album of the Issue" - Jockey Slut, April/May 1998, "Album of the Month" - Wax magazine, May 1998.

Boards of Canada recorded an exclusive session for the John Peel Show on Radio One in June 1998, and performed live on the John Peel Show, during the recording of the session. Peel described it on air as an "excellent session."

In July 1998 BOC landed a licensing deal in the USA with New York's Matador Records. Music Has the Right to Children was set for a September 1998 US release. That summer BOC commenced work on their second album for Warp Records, while Music Has the Right to Children was released in the USA. Jack Dangers of Meat Beat Manifesto approached the band, and BOC remixed his single Prime Audio Soup.

In January 1999 the BOC album Music Has The Right To Children became one of the most highly acclaimed albums of 1998 in magazine end-of-year polls; "No.16" - NME, "No.3" - Jockey Slut, "No.5" - The Wire, "No.8" - DJ Magazine, "No.19" - Muzik. In the same month Warp Records released a single of the BOC Peel Session that had aired the previous year on the UK's Radio 1.

Music Has The Right To Children returned to the UK Independent Chart Top 20 in February 1999, and after staying around for three weeks it peaked at number 7. Simultaneously the Peel Session single hung around the Top 10 of the Independent singles chart for several weeks.

In May 1999 NME included Boards of Canada in its "Top Ten Nu-Psychedelic Bands," alongside Mercury Rev & The Beta Band.

In the same issue, NME ranked Boards of Canada's debut album 'Music Has The Right To Children' in its Top 25 Psychedelic Records of All Time:
"…..
1 The Beatles - Tomorrow Never Knows
2 The Byrds - Eight Miles High
3 13th Floor Elevators - Slip Inside This House
4 Pink Floyd - Interstellar Overdrive
5 Electric Prunes - I Had Too Much To Dream Last Night
6 Country Joe & The Fish - Electric Music For The Mind And Body
7 The Beach Boys - Vegetables
8 Jimi Hendrix - The Stars That Play With Laughing Sam's Dice
9 Can - Mother Sky
10 Happy Mondays - 24 Hour Party People
11 The Stone Roses - I Am The Resurrection
12 A Guy Called Gerald - Voodoo Ray
13 The Butthole Surfers - Hurdy Gurdy Man
14 My Bloody Valentine - To Here Knows When
15 Primal Scream - Higher Than The Sun
16 The Orb - Little Fluffy Clouds
17 The Boo Radleys - Giant Steps
18 Mercury Rev - Racing The Tide
19 Spiritualised Electric Mainline - Electric Mainline
20 The Chemical Brothers - The Private Psychedelic Reel
21 Olivia Tremor Control - Dusk At Cubist Castle
22 Super Furry Animals - Radiator
23 The Beta Band - Three EPs
24 Boards Of Canada - Music Has The Right To Children
25 The Flaming Lips - The Soft Bulletin
….."


From 1999 onward various tracks from the BOC back-catalogue were being licensed for compilation albums, TV synchronisation and film soundtracks all over the world.

Throughout the summer of 1999 Boards of Canada continued to work on their second album, and in August 1999 they contributed two tracks to Warp Records' 10th Birthday celebration albums, for release later in the year.

In November 1999 Boards of Canada performed live at Warp Records' 10th Birthday Party in London alongside Autechre, Squarepusher, Aphex Twin and Mira Calix. The BOC live visual show, produced by the band themselves along with contributions from Hexagon Sun collaborators, was by now incorporating more finely-honed experimentation with subliminal text and imagery.

In October 2000 Boards of Canada performed live at The Incredible Warp Lighthouse Party, an electronic showcase event at a lighthouse on the River Thames in London, alongside various luminaries of the electronic music world including Autechre, Plaid, Aphex Twin, Skam artists, Schematic artists from the USA, Prefuse 73, and various others.

In November 2000 Boards of Canada released a four-track EP In A Beautiful Place Out In The Country.

In April 2001 BOC headlined at All Tomorrow's Parties, a festival on the south coast of England with an esoteric line-up including Lambchop, Television, Yo La Tengo, Tortoise, Broadcast, Sun Ra Arkestra, and many others.

In February 2002 Boards of Canada released 'Geogaddi', the long-awaited follow-up to 'Music Has the Right to Children'. Described as a darker partner to the previous album, with it's swirling psychedelic melodies and multiple layers of beautiful sonic detail, 'Geogaddi' immediately entered the Top 20 Album Chart and stayed there for several weeks.