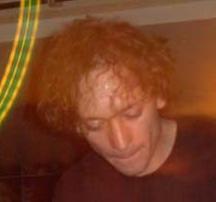 Ark is the artist who first brought the minimal style to many French. As soon as 1997 he issues on the Brif label "Siderurgie esthétique" and "De derrière les fagots", two EPs which were not much of a great success… It's logical, Ark is a precurssor, always light years ahead of his time.

But he doesn't loose faith in his craft for that, and collaborates in 1999 with Herbert (UK) and Losoul (GER) on "Belle lurette". Everyone got skeptic listening to this new music and yet, as today Losoul or Herbert have became stars of the genre, they discover the sound of Ark!

Ark doesn't begin his career at that moment. He first plays guitar in an 80's funk band and then starts with the heavily talented Pépé Bradock the band Trankilou . Remember, "Saint Glin-Glin" and especially "Escalope de dingue" which became an interplanetary hit. After that, he unexplicably misses the jackpot with "Le magicien d'os", its funky as hell & hypnotic chant ("I like the way your booty shake, ah, ah") and its monstrous remixes.

Ark has now joined forces with french fellow artist Cabanne as Copacabannark (on Perlon); he also issued an album as Shalark (Ark with Shalom) in 2001 and even manages to find the time to pursue his solo career, with the release of an EP on the prestigious Playhouse label (GER), as well as a LP/CD compilation entitled " Alleluyark " on the french label Circus Company. Two new tracks will also be available soon on the Katapult "Various Artists" upcoming compilation, as well as a few exclusives on the next T.I.M.E.C. releases, the parisian label with a twist which gracefully helped him with the site web you're now visiting…

His live sets always include stupendous and now famous surprises. The public of the Pulp in Paris won't forget anyime soon his incredible energy-fuelled mixes from reggae to hardcore with Mr. Oizo , Feadz or Herbert. He's also been heard at the Rex, the Batofar, the Scene, the New Casino in Paris or the Panorama Bar from Berlin. When he plays, his hair get moving all around, his body is a prisoner of the beat, he becomes the most beautiful man in the world… and the most unforeseeable.
Performances