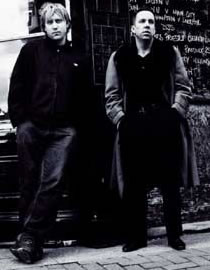 "I'm what you might describe as the classic underachiever. I tread that fine line between boffin-dom and the grand amateur."- Andrew Weatherall, 1997.

Andrew Weatherall has always been good for a quote. From the deep, dark days of early acid house to the deep, dark days of the modern-day Two Lone Swordsmen if youre looking for an opinion on the largely insipid world of dance music then Andrew's always had that happy knack of cutting straight to the chase delighting and upsetting in roughly equal measures.

The swaggering original moody DJ. The pop star producer. Bastion of the underground. One-time (ahem) Balearic figure-head. Electronic experimentalist. Peerless explorer of the minimal techno sound. Arch grumbler. Londoner. Honorary Yorkshireman. All these notions have been bandied about by punters and critics alike in a bid to pin down Weatherall's role in music. Yet none of them quite fits the bill. And even when they do hit the mark theyre often far too paradoxical to make much sense. In the dull as ditch-water world of dance music personalities, Andrew Weatherall comes across as a refreshing and involving character. This has always been reflected in all his musical output since those formative days remixing Primal Screams rocky original into the pivotal Loaded.

Weatherall's history goes back far to the beginning of the British acid house scene having swung gigs for himself at Danny Rampling's legendary Shoom night off the back of the sort of sounds recently showcased on Andrews compilation for Nuphonic entitled 9 OClock Drop. Subsequent to this his connections with the original Boys Own record label (and fanzine) led to artist releases, remixes and a string of legendary London clubs such as Blood Sugar, Circulation, and of course Sabresonic (where the fledgling David Holmes cut his teeth). It was through Primal Scream though that Andrew first made his name. As the producer of Screamadelica he took The Primals, twisted them (best not to ask how) and in turn created the hybrid of narcotically-challenged rock and acid house now seen as a generation-defining release.

It was through the club Sabresonic and Andrew's remix productions that he tied in with Jagz and Burns, forming the live/studio band, Sabres of Paradise. More often than not shows would see Andrew standing at the side of the stage possibly doing fuck all other than smoking fags. No-one was quite sure. What is certain is that these experiences drew Andrew away from the Screamadelica-inspired limelight that beckoned and back into the subterranean to develop the dark, experimental sounds he has subsequently become known and respected for.

After the demise of Sabres (and the record label inspired by the outfit), following a string of albums and singles on Warp, Andrew teamed up with fellow Sabres cohort Keith Tenniswood to form Two Lone Swordsmen. Keith himself has a string of prior musical convictions working with The Aloof, David Holmes and Red Snapper. More recently he has made really fucked electro breaks to wrong-foot the dancefloor under the names Bargecharge and Radioactive Man for the Fuel label. Keith's ear for the production of low-end frequencies is unrivalled.

Quietly toiling away in their Rotters Club studio the pair honed their own brand of lo-fi emissions delighting experimentalists and equally frustrating the folk waiting for Andrew to stop being up his own arse and get on and knock out more of those dubby Balearic tracks he initially made his name with. Thankfully this never happened. Instead Fifth Mission - Return to the Flightpath Estate was released, a sprawling, dense double CD soundtrack lurching between leftfield dancefloor and your fucked head, all shot through with an alarming disregard for genre or expectations. As if to confound admirers further Andrew also made deep house releases as Lino Square, Rude Solo and a whole host of yet to be discovered pseudonyms. After a couple more releases on his own Emissions label, Andrew and Two Lone Swordsmen re-signed to Warp and became quietly prolific with a string of releases such as Sticky/Gay Spunk, A Virus With Shoes and A Bag of Blue Sparks. Then back to Primal Scream taking the track Stuuka and re-writing it as a supremely morbid piece of reggae-heavy electro. Then there was the second TLS album Stay Down, its title as revealing as it was succinct.

All the while Andrew has been maintaining his output through various alternatives projects. A mix CD in the Heavenly Social series with Richard Fearless took the dark route to the heart of the dance floor. A one-off performance at Manchester's Cornerhouse cinema saw him providing a new experimental DJ soundtrack to FW Murnau's silent expressionistic masterpiece Nosferatu. A limited edition double grooved 7" on Slut Smalls. And of course, a reputation as one of the country's least compromising disc jockeys playing at clubs such as Bugged Out! and the Haywire Sessions @ Turnmills right through to the bar-based Electrocuted night in Brixton.

With the imminent appearance of Two Lone Swordsmen's third album Tiny Reminders, Andrew and Keith look set once again to throw the cat amongst the pigeons making music with machines like no one else. Brace yourself for another bout of delight (and possible frustration) as one of the UK's few remaining innovators stays uniquely true to his own musical vision when all around him are going soft or running out of things to say.