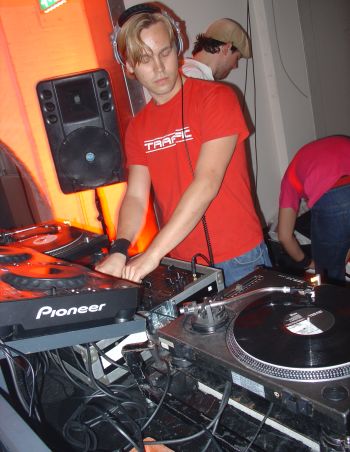 Lauhaus has been playing and making music since his early years. It started with making mixtapes on grade school by using two tapedecks,
Mixing stuff like N.W.A. and public enemy. Later on he started producing his own tunes using his amiga computer. Eversince music has always been a big part in his life.
When he grew up, his taste tended more towards housemusic. It resulted in going to parties and listening to dj sets. And in 1998 he decided to buy a pair of decks for himself. His Musical style is a combination of house, techno and electro, focussing on the minimal and deeper side of it, but always paying attention to the dancefloor.
After some small underground parties in clubs like club 114 and the catacombs, he started the Traffic concept in 2001 together with Bart Skils, Aron Friedman and Daan Spoek.
Traffic is a full on techno night held about 5 times a year at the Melkweg, Amsterdam. With innovating and quality line ups, Traffic has become one the most popular (underground) technoparties in Holland. In the last three years big names like Richie Hawtin, Ben Sims, Heiko Laux, Wighnomy Brothers and Steve Bug have played their set at Traffic. It also resulted in some collaborations with different organisations like 5daysoff, ADE, Planet Rose (Doornroosje) and the website 3voor12. The last one being the first in a series of Traffic on tour. As it was a succes, new tour dates have already been planned…
In 2002 he founded a new concept called MONO. It's different from the Traffic parties, since it's more club oriented. MONO focused more on the minimal side of house and techno. It was a platform for upcoming dutch dj's and occasional special editions. International artists like Tom Clarke, Sammy Dee, MIA, Jay Haze and Jeff Mills have rocked the house. MONO started of as a monthly clubnight in club 020, then known as club ITEM. Later on it became a weekly night. After the club was sold, it was time for a transition. The concept has changed. From now on MONO will be a one off concept at different locations. The first one was at the Melkweg with the Märtini Brös. and Tiefschwarz.

In 2004 Lauhaus started residency with Melon at TWSTD. The night is called toGETher, and is held once a month on a Thursday. It is a platform and hang-out for local Dj's and musiclovers who share the love for the minimal house sound.
Next to these two residencies, Lauhaus has also played parties and clubs like Mazzo, Voltt@Paradiso, Awakenings Festival 04, 5DaysOff@Melkweg, Fast FWRD Street Parade Rotterdam, Electrorated@Winston, Vaaghuyzen, club TIME, Panama, AMP Studions, On@Off_corso (Rotterdam), Integrate@Paard van Troje (Den Haag), Pure Audio@LVC (Leiden) and Planet Rose@Doornroosje (Nijmegen).