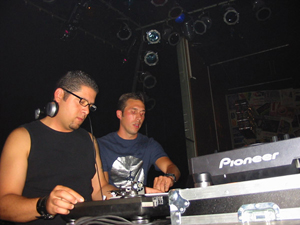 Jarno & Carl-oz were both dj-ing for several years when they started to perform as a duo (1996), under nicknames like "DrumTechAlliance" (breaks-drum'nbass) and "Johann O meets PervyBill" (electrobreaks) they performed at various parties in the dutch dance-scene. In 2001 they started up a new project to see if they could give there dj-perfomances a bit more creativity. Under the name of "Los dos Hermanos" they started to perform with 4-decks / 2-cdj-players and 2-pioneer mixers, trying to create a more cross-over mixture of house-music, techno, electro and breaks. Los dos Hermanos play on a monthly based residency at the well visited Audiocouture nights in Gigant Apeldoorn.

Partyreferences:
Roxy (Amsterdam), It (Amsterdam), Nighttown (Rotterdam), Doornroosje (Nijmegen),
Odeon (Amsterdam), Ministry Amsterdam, Burgerweeshuis (Deventer), New Frontier 1st
edition, Technofestival (Krakow Poland), 12"show New Dance Radio, Immortality/Hellraiser (Sporthallen Zuid Amsterdam), The Sound a touring party organisation of Cosmos Government, Luxor "Club Stargate" (Arnhem), Manhatten(Arnhem), Unitas (Wageningen), Bitterzoet (Amsterdam), Amsterdam Dance Event 2003 at the Supertracks Label Night, and different Illegal party's.
Nowadays recidency at the monthly Audiocouture nights at podium Gigant Apeldoorn.
Performances