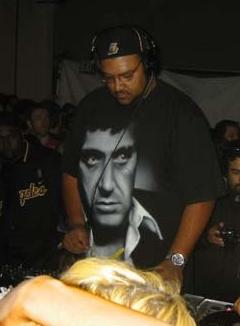 One of the most innovative producers of the old-school/electro era, Egyptian Lover's Greg Broussard recorded a parade of singles during the mid-'80s that proved influential for decades.

Influenced himself by Kraftwerk/hip-hop soundclashes like Afrika Bambaataa's "Planet Rock" and Man Parrish's "Hip-Hop Be Bop (Don't Stop)," as well as the extroverted black-lover soul of Prince and Zapp, Broussard began recording from his Los Angeles base in 1983.

One year later, he emerged with the breakdancing anthem "Egypt, Egypt," released on the Freak Beat label. Similar to excellent tracks being produced all over America – from Detroit (Cybotron) to New York (Mantronix) – "Egypt, Egypt" and successors "What Is a DJ If He Can't Scratch," "And My Beat Goes Boom," and "Computer Love (Sweet Dreams)" spent much time in DJ crates during the '80s and '90s.

Broussard also released several LPs during the mid-'80s, including 1984's On the Nile (practically a greatest-hits compilation), 1986's One Track Mind, and 1988's Filthy; the first two appeared on his own Egyptian Empire label.

After several years away from music, he returned in 1994 with Back From the Tomb and the following year's Pyramix.
Egyptian Lover
Verenigde Staten
http://
Performances