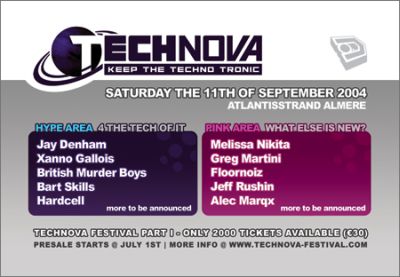 Technova keeps the Techno Tronic

Atlantisstrand, Almere – Keep The Techno Tronic. Onder dit motto organiseren DTF Events en Project X-it op 11 september aanstaande Nederlands nieuwste Techno Festival: Technova. Op het muzikale menu van het festival staat een unieke mix van mondiale top en nationale 'new school'. In twee hoogwaardige accommodaties op het Atlantisstrand in Almere wordt ruimte geboden aan 15 dj's en 5 live acts. Wees er snel bij, want het terrein biedt plaats aan een select gezelschap van 2000 feestbeesten. De voorverkoop start op 1 juli.
Nederland leidt op vele fronten de elektronische dansscène. Een glansrijke positie die met de komst van het gloednieuwe techno festival Technova duidelijk wordt verstevigd. Het festival vindt op zaterdag 11 september overdag plaats op het Atlantisstrand in Almere - van 11:00 tot 23:00. Tijdens het festival wordt een select publiek in twee area's twee technokwesties voorgelegd.

What else is new? Deze vraag vormt de basis van de line-up voor wat zal heten: de Pink Arena. De honger voor nieuw techno bloed wordt op gepaste wijze gestild: Greg Martini, Floornoiz, Jeff Rushin, Alec Marqx en wondergirl Melissa Nikita (NYC) zijn de eerste namen die de organisatie reeds prijsgaf. Duidelijk het topje van de ijsberg, want op 1 juli wordt de complete line-up officieel bekendgemaakt.

Rest ons nog je te informeren over de Hype Arena, de grote tent met 9 headliners. Aan (o.a.) de British Murder Boys (Surgeon & Regis), Bart Skils, Hardcell, Xanno Gallois (Final Scratch) en Jay Denham de eer om het publiek te laten zien waar Technova daadwerkelijk voor staat. Mede-organisator Xanno Gallois: "4 the Tech of it. Intelligente techno zoals we dat noemen". Bookmark http://www.technova-festival.com/ om op de hoogte te blijven van het laatste nieuws.