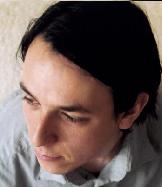 Falko Brocksieper made his first steps to electronic music at the age of 16. On his Amiga 500 computer he created countless of those beepy-melodic lo-fi compositions, simultaneously to rather being interested in the computer's graphic abilities.

In 1993 Falko first got in touch with techno. It was the great time of trance, and mainly it were the monotoneous, hypnotic approaches that fascinated him (Laurent Garnier, Roland Casper, Perry & Rhodan…).

Soon Falko started to spin records himself, while the musical interest moved more and more towards Detroit and all kinds of U.S. minimalists (Robert Hood, Daniel Bell, Woody McBride, Damon Wild…)

In 1997 Falko Brocksieper moved to Cologne to study at the Academy of Media Arts, where he has by now graduated in media design.

Meeting M.I.A. finally led to setting up the own label SUB STATIC in 2000, through which the production of own music should be focused again. After several 12"es on SUB STATIC and other labels, Falko's debut album 'Hoax Deluxe' has now been released, which impresses especially by the combination of technotic energy for the dancefloor and remaining true to the basic ideas of minimalism.