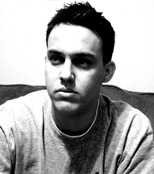 From an overly commercial and disgustingly political Dallas underground scene, emerges a fresh young talent with a deep understanding of electronic music and an audible dream.

Eric Estornel, aka Maetrik, with more than a decade of actively contributing to the musical world around him. Always discovering new sounds and rhythms, Eric has managed to, over the years, seperate himself from the rest and claim an independence that has made him a force like no other. Constantly developing himself as a producer is always on Eric's mind, as he makes his way through a fickle industry and reluctant audience.

In '96 Eric adopted the Techno and House hybrid sound for its fresh outlook on electronic underground music. Since then he has worked hard developing his own sound based on the powerful Tech-House influence of todays most prolific and accomplished techno and house producers.

Like in his Djing, Eric is always moving foward and never looking back towards an audible dream that will one day make his mark on electronic music. So far Eric has been signed to some of tech-house's most respected labels, and is slowly achieving his dream of doing what he loves for a living. Look out for releases by Eric in the near future under the names Maetrik, Mariel Ito, and Jell Cell.