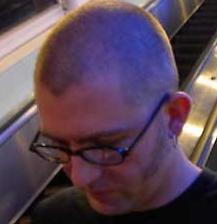 Jeff McIlwain burst onto the electronic scene in 1999 under the name L'Usine with a well-received album for Isophlux. On that album, the Virginia-born, Austin-raised McIlwain laid the groundwork for his distinct percussive programming skills based on a love of Speedy-J, dance music, and film soundtracking - which he was studying at the time at CalArts.

Upon completion of his MFA in sound design and electronic composition, McIlwain began pushing his beat-splicing techniques into more experimental realms while also performing sound design work on a variety of major Hollywood films.

His album for U-Cover, A Pseudo Steady State under the name Lusine ICL, saw McIlwain edging into atmospheric realms that compliment -and complicate - his delicate rhythmic constructions.

McIlwain's approach creating tracks revolves around layering sonic textures and sound effects, in turn bringing him remix requests from Funckarma, Anton Price, Marumari, and the legendary Speedy-J.
Performances