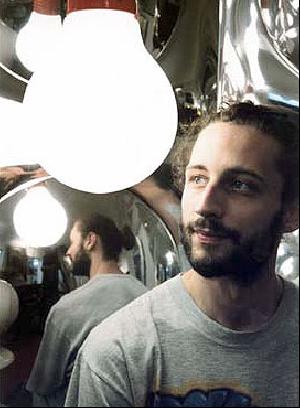 It seems crazy when you think about it, but YosepH is Luke Vibert's first ever release on Warp Records. After some ten years of releasing music for everyone else on the planet (Rephlex, Ninja Tune, Virgin/Astralwerks, Nothing, Planet Mu and Mo' Wax among countless others), Luke Vibert finally comes round to giving one up for what many would consider to be his spiritual home. And naturally, we think it's his most exquisite work yet.

Throughout his career, Luke has masterfully matched his natural creative bounce – the man can't help himself, he's been known to produce a track a day for months on end – with an ear for accessibility, and never more successfully than on YosepH (note the 'pH' – which here refers to a table of basses, acids and very excited neurons).

The logical conclusion to years of self-inflicted abuse within the genre of 'acid-techno', YosepH is what you might call an acid renaissance album – timeless, perfect and sonically magical. A record for the mind that can cut it on the dancefloor (try to resist the raving lure of 'I Love Acid', 'Acidisco' or 'Synthax') YosepH is a seriously addictive batch of fresh acid, wrought with much love from loads of gnarly, vintage analogue synths and beautifully polished with meticulous Vibert production glow. It's the definitive, killer record Luke Vibert has always threatened to make. Yes!

A Cornwall contemporary and longtime associate of Richard D. 'Aphex Twin' James, Luke Vibert has released music under various pseudonyms including the off-kilter funk of Wagon Christ, ragged drum 'n' bass of Plug and a much celebrated collaboration with steel guitarist BJ Cole as well as remixing a host of his peers including Nine Inch Nails, Squarepusher, Aphex Twin, The Artful Dodger, Tortoise, Cylob, Lamb and Stereolab. Kid 606 even did a track called 'Luke Vibert Can Kiss My Indie Punk Whiteboy Ass' on his album Down With The Scene in which he fiendishly stole a sample from the Plug track 'Military Jazz'. (Always a gentleman, Luke played a gig with the Kid in Los Angeles in 2001). Luke has also compiled two respected albums of library music (Nuggets, Further Nuggets) for Lo Recordings and clocked up not one, but two Peel Session recordings.
Performances