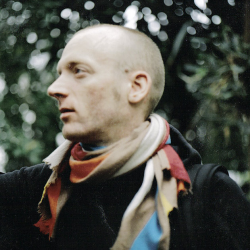 Peter Grummich is not unknown say his friends who also know him as Lee Anderson. He seems happy about the fact that he's found a home at Shitkatapult with his new album. "I finally found a home for my album!" he says. This was not always the case. He left his tracks, just like his underwear, in many record kitchens all over, like at Schnittstelle, Braintist, Kompakt, Sender, Auftrieb and last but not least at the Ghostly
subsidiary Spectral from Detroit, where he's listed as the only German artist.
Grummich is a pro in his own right. He knows the music biz like the back of his hand and his first single was Billie Jean from Michael Jackson. He of course didn't make that one himself, just bought it as he fully admits. Honesty this bare is rewarded because Grummich is luminary and old fart on the decks, and he will no doubt celebrate his 20 year DJ anniversary next year. Congrats!
Picture is also from shitkatapult.com