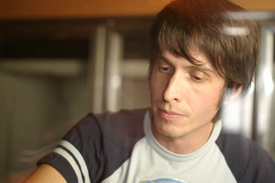 Born in 1972, Jean-Patrice Rémillard was immediately attracted to music. His parents recall the day when he discovered how to use a turntable and from there on out, he would listen to old rock records endlessly. Perhaps the most important discovery for JP was when his babysitter gave him a Bee-Gee's record for his birthday and he was introduced to dance music.

JP became interested in acid house in the late '80s and raves in early '90s, inspiring him to DJ his own radio shows in Sherbrooke, Québec. From his college years to university, he played techno, house and anything exciting to people whose ears weren't as close to the ground.

Upon moving to Montreal in 1997 to study computer science, JP met Mateo Murphy and found they shared similar musical interests. After performing a show with Gez Varley, Mateo and JP decided to work on a live concept of their own, based on improvising beats on the fly and mixing in other synthesized sonic textures.

It was at this point that JP adopted the name of Pheek after a Richie Hawtin/Plastikman performance at Medialounge, a show that would forever change his perspective on music.

After further honing their live show together, Pheek and Mateo opened for Chain Reaction at the FCMM in 1999. They were spotted by Hautec and offered to release a 12," marking a turning point in their fledgling careers.

The few years that followed saw proposed releases on Hybrid Structure and collaborations with Mitchell Akiyama on various projects – a creative period that proved a catalyst for JP's later success.

The next pivotal point in Pheek's career was meeting Eloi Brunelle and subsequently being invited to join to the Epsilonlab media collective. JP played with them since the very first night of their existence and for almost every show to follow. His first release for Epsilonlab, 2002's Paysages Matriciels, was a critical success and was nominated for Quebec's prestigious ADISQ music awards.

Later that year, Pheek and Eloi toured Europe together, playing shows in Paris, Lyon, Switzerland, Cologne and London. This trip opened up new possibilities for the duo and they completed a second European tour the following year.

Recently, JP teamed up with Thinner, one of the more recognized MP3 labels. As well as contributing tracks to Thinner's compilations and releasing Tabisuru Kokoro in late 2003, he has coordinated many of their live events, including a Thinner vs. Epsilonlab showcase.

As a veteran of the Epsilonlab team, Pheek is asked to produce his second album with the label. This will mark the beginning of a new era in the Montreal based label as they will launch a mp3 department.
Performances