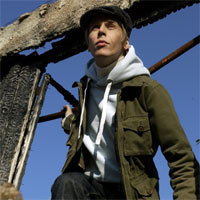 1975
born in helsinki/finnland

1990
first gigs as a hiphop dj in school discos. kiki tours later on with a group of mc's (style: funk-records hacked plus a sampler) as a successful hiphop act through finnland & sweden until the beginning of the 90's when the techno and house scene became more exciting.

1992
kiki spins records for the first time at the "it-club" in helsinki starting in '92. resident dj in the "tempo club" of helsinki.

1996
move to berlin and the beginning of an architecture curriculum in '96. kiki leaves a strong impression at a malboro dj contest in the tresor (with masters at work as judges) and then soon finds himself djing there and at the wmf. resident in berlin clubs such as pfefferbank, casino, e-werk, tresor, wmf. kiki produces his own radio show for a cult pirate station: twen fm. kiki plays the international terrain with hot djs.

1998
prodices a mix cd on three decks for "sonnenhaus parties"; de-bug writes: "kiki must have broken his fingers mixing…"

from 1998
goes on tour with dj phonique as quadrophonique kicks and produces his tracks from then on for ellen allien's super hot it'll hurt bpitch control label.

2002
works closely with silversurfer and, as of late, together with dj phonique (poker flat). they have a four turntable project in store for a mix cd and a remix.

2004
working on his debut album

kiki was born and raised in finnland.
meanwhile his musical home as a dj and producer is berlin.
he is famous for his versatile wildstyle wich is a mixture of hi-nrg-tech-house glamour hystery and hilarious sampler explosions.
kikis¸s agile sound likes to take a dip in the pool of hedonismand he has no problem playing a set on three decks all night long without missing a groove or skipping the needles.
he is always searching for the freshest stuff with his good humored comprehensive style diversity in order to wind around inelastic structures, this all and a lot more makes him an integral part of the bpitchcontrol collective.
Performances