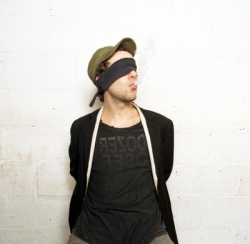 ''The Light At The End Of The Tunnel Is A Train' was written, recorded and self produced by WHITEY (AKA Nathan J Whitey) over the last few months and features 10 brilliant new tracks that combine fuzzy, driving electronics and catchy, yet twisted pop to great effect. Stand outs include the melodic, 'Cant Go Out, Can't Stay In', the deleted debut 7" ëY.U.H.2.B.Mí, the album's title track and closer; The Light At The End Of The Tunnel Is A Train' and forthcoming single 'Non Stop' .
Live shows and the recent single 'Leave Them All Behind' have seen WHITEY stun

audiences in venues from New York to Berlin and pick up support from a bizarre selection of opposites such as Pete Tong, Andrew Weatherall, John Kennedy, and 2many Dj's.

On his debut album, the self-taught WHITEY writes the songs, plays guitar, bass, keyboards, synths, vibraphone, violin, piano and drums, and programs the drum machine & computer. The album was assembled piecemeal from snatched hours in strangers studios, from rough demos on cheap keyboards, and demo sessions on borrowed equipment. The end result of this chaotic process lies somewhere between fragile melody and buzzing, rhythmic noise.
Performances