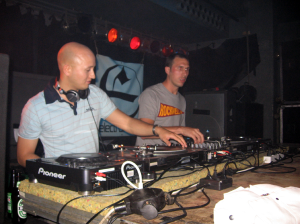 groove.addicts are Jarno Cabeza and Dennis Bianci, two close friends with an all consuming passion for electronic dance music. They were already dj-ing for several years (see below) when they decided to combine forces in a new dj-project named groove.addicts in the fall of 2004.

The two rapidly established themselves as a dj duo and within a couple of weeks they performed at some of Holland's best parties and radio shows such as MTV Club Cinema – Club 11, Electrorated – Winston International, BNN's Weekender (3FM), Tivoli de Helling, Zebra Lounge, Electronation radio show (KinkFM) and the Supperclub.

groove.addicts quickly developed their own style and play an unique and eclectic mix that varies from minimal house to acid and electro, and from techhouse to breaks and techno. They have been picked up by Electronation and will be playing at this years' edition of Dance Valley 2005.

groove.addicts: expect a high caliber dj-team playing quality electronic music with great passion and enthusiasm.
Performances