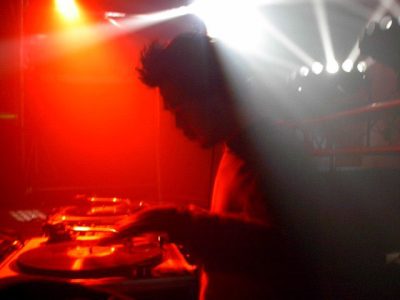 Een interview van ons met hem is hier te vinden.


Techno hit Japan hard in the early 1990s. Surprised, Takaaki Itoh was quickly impressed and intrigued with this new sound. The unique style of beats revealed the gateway to a new world of underground music in Japan - something he had never heard before. Surprise slowly gave way to addiction when Takaaki Itoh was exposed to the sounds of such artists and labels as Underground Resistance, Derrick May, Jeff Mills, Hardfloor, Sven Väth, Harthouse, Warp and Rising High. This was his sound, and deciding he just couldn't get enough of it, in 1994 Takaaki began to organize his own techno parties in his home of northern Japan. By providing a fantastic lineup, his parties quickly became a success.

In 1996, having decided that it was time to start making his own tracks, Takaaki Itoh emerged to purchase the vital instruments to begin production. After sending out three finished projects to various labels, Electracom UK was fortunate enough to put Takaaki's first material out. This moment was something he will never forget, as he was finally able to hear his own music on vinyl. Several releases followed with Electracom as his tracks began to appear in magazine DJ charts in well known DJs from around the world.

In 2000, Takaaki Itoh made his European debut in Slovakia. People recognized that he had his own style. His Japanese style of techno was pure, unique and underground - nothing that had been heard before in Europe. His reputation and popularity quickly spread all over the continent. He was becoming recognized as Japan's most underground and respected techno DJ.

As of 2001 he was getting offers to perform at large clubs and festivals all over Europe, including Cosmic Trip and Svojsice in the Czech Republic, The Darkside in England, MTW in Germany, Reactor in Holland, Mayday and Sziget in Hungary, La Real and Code in Spain, Boomerang in Slovakia, as well as events in Belgium, Bosnia, Bulgaria, Croatia, Poland, Portugal, Serbia. Slovenia.. Promoters wanting him, party people loving him, Takaaki Itoh took the next step and started his own label Wols. Passion led to success and Takaaki became recognized as the top of the next generation of techno music.

By 2005 Takaaki Itoh has released over 50 original productions on many different european labels like Sheep, Tsunami, Warm Up, Theory, MB Selektions, Integrale Muzique, etc. He's also developed a reputation for remixing globally established techno artists such as Gennaro Le Fosse, Oscar Mulero, Christian Wünsch, and more to come. His demand is rapidly growing beyond his Asian and European roots, to places like South America, Australia, the US and Canada.