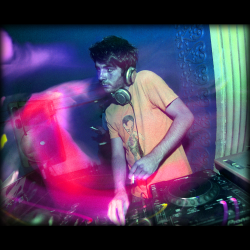 (Three Imaginary Boys, Dirty Dancing, BMG, Labels, Brussels)

Cosy Mozzy has been spinning records ever since he was a little boy and is truly a music fanatic in the broadest sense of the term. He first arrived on the public scene as a Movida resident and moved on to head the Blow-Up Club, both behind the decks and as artistic director.

In 2002, his reputation expanded beyond Brussels and he started playing hot gigs like 10 Days Off, Dour Festival, Culture Club… In 2003, his career truly exploded and he became one of Belgium's most wanted DJ's. That same year, he signed up to become the artistic director of Dirty Dancing, the new eclectic concept aimed at re-launching the Mirano Continental club. He turned it into a huge success.

2004 will be marked by the release of numerous compilations on both BMG and Labels/Virgin. But that's not all: as a producer, Cosy Mozzy now makes his own music with the guys from Sweatshop, under the name of "Three Imaginary Boys". He is also making a name for himself abroad, and has been playing le Pulp and le Triptyque in Paris, and clubs in Ireland. Cosy Mozzy has his own radio show on a national radio station [FM Brussels] every saturdays: The Cosy Mozzy Dirty Show !
Performances