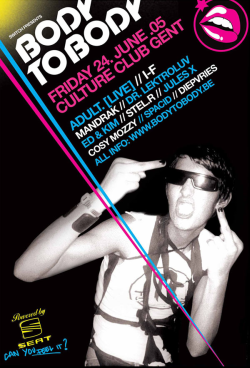 Adam Lee Miller and Nicola Kuperus, the legendary punky electro duo behind Adult. (notice the dot behind the name!) will present their new EP "D.U.M.E" which has just been released on Thrill Jockey.

Get a taste of what's in store for you, go to www.bodytobody.be and listen to the track "hold your breath".
Experience Adult. LIVE at Body To Body – amidst respected electro DJ's I-F, Dr. Lektroluv, Spacid, Mandrak, Ed & Kim, Cosy Mozzy, Diepvries, Jules X and Stel-R.
Location