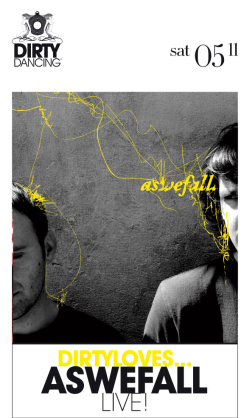 De top 50 braakt de grootste rommel uit terwijl er talloze groepjes zijn die geband worden door het overgrote deel van de media en die je moet horen op… de "Dirty Loves…" zaterdagen. Dit is een nieuw concept in Dirty Dancing dat u nieuwe artiesten (live groepen) wil laten ontdekken die wij het einde vinden maar die niet per se in het "clubby" hokje thuishoren. Het betreft groepen die ons geraakt hebben en waarvan de muziek perfect past om een nachtje Dirty "live" mee in te leiden. En aangezien de Mirano sinds kort beschikt over het beste soundsystem van alle Brusselse clubs is dat nu ook technisch mogelijk! Vanavond stellen we u Aswefall voor, een Parijse electro-wave-pop formatie getekend op het "Kill the DJ" label. Het gaat bij hen om mooie vluchtige en gevoelige melodietjes, teksten in het Engels en Frans, een bijwijlen koele sfeer (invloeden van The Cure, Joy Division…). Ontdek Aswefall alvast op de homepage van onze site, www.dirtydancing.be! Gezien zijn eerder "softe" karakter heeft het optreden plaats om middernacht. Komt en profiteer ervan! Voor deze allereerste "Dirty Loves…" is de toegang gratis voor middernacht!

The Hell
Aswefall (live) at 00h00 sharp !
(Kill the dj, Paris, FR)
Cosy Mozzy
Sweatshop
Mandrak

Café Dirty
Javelo aka Stephen vs Vito Deluca

Tot 00:00 uur gratis entree.
Location