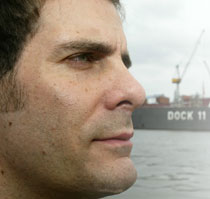 Born and grew up in bonn/cologne, germany.
fell into jungle and breakbeats in 1994.
started to deejay in 1995, played at regular evenings in several locations in cologne, bonn, hamburg…
(as a guest or a solid member of the pathfinder drum n bass crew),
launch of the first drum n bass party series at gebaeude 9 in cologne (voltage life support) in 1997,
several releases on labels like pathfinder and wicked wax (as 'mariachi' or 'syncope + mariachi')

stopped playing drum n bass in 2000 and further developed to minimal, experimental house, dubby techno, electro.
moved to hamburg in 2001 and started to play in several bars and small clubs.