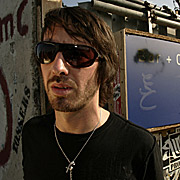 After being raised in the cornfields of Indiana and brought up on quality Midwest house & techno (Richie Hawtin, Jeff Mills, Derrick Carter, D-Wynn) Troy became a bit jaded by ten years in New York where the struggling minimal techno scene consisted of a handful of die-hard fanatics going against the commercial sound of a city that has seen itís day musically.

After relocating to Berlin in January 04 to focus more on dj/production, things quickly began to change. Within months the first live performance as Slacknoise under Richie Hawtin's Minus label took place at the Magnet Club in Berlin (with Dinky and Pan Tone). Other notable live performaces followed in Montreal (Mutek with Magda, Jeff Samuel, Mathew Herbert) and New York (Minimize to Maximize with Magda, Mathew Jonson and Richie Hawtin)

In addtion to performing live, Troy is quickly establishing himself as a much sought after dj, often playing alongside label mates Richie Hawtin, Mathew Dear, Mathew Jonson, Magda, and others like Zip, Sammy D, and Ricardo Villalobos. Dj-ing in Detroit, New York, London (egg, the end), Zurich, Vienna, and of course Berlin.

As one of the first users of Final Scratch, Troy has always looked outside of the norm to embrace and integrate technology into his sets. A project is currently in the works with labelmate Magda to incorporate multiple laptops and other devices to achieve a set up that comes closer to a live performance than a traditional dj set.
Performances