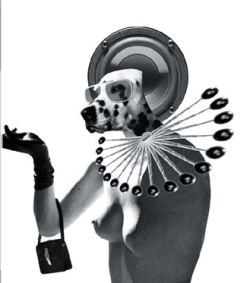 La Chienne Hi-Fi is een maandelijks partyconcept in de Tryptique in Parijs (de club waar Dirty Dancing eveneens een maandelijkse residency heeft). Het concept is simpel: eer betuigen aan de dames en hun muzikale talenten! We nodigen dus drie dames uit die het dj project "Les Putafranges" vormen en die reeds van zich hebben laten spreken in een aantal tijdschriften zoals Technikart of Trax. Lady Jane en Sandra zorgen voor het vrouwelijke "Made in Belgium" gedeelte. Mandrak en Cosy Mozzy zullen hun best doen om te passen in dit landschap gewijd aan gratie, finesse en vrouwelijke gevoeligheid. Zo zie je ze nooit meer van je leven… meer zeggen we niet…

The Hell (main room)
Les Putafranges (Triptyque, Paris), Lady Jane (Cat Club), Cosy Mozzy vs Mandrak (Girl Attitude !)

From 22h00 in Café Dirty
Namissy (Soulfull Stuffs set)

Voor 23:00 uur gratis entree.
Voor 00:00 uur 5 EUR entree.
Deuren open tot 04:00 uur.
Location