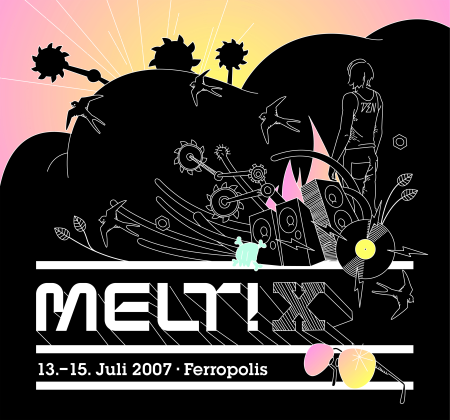 Ook dit jaar zullen er gedurende de zomer heel wat festivals gaan plaatsvinden, een daarvan is Melt! in Duitsland. Dit festival, dat vooral gekenmerkt wordt door de industriële locatie Ferropolis, heeft de eerste namen voor de 2007 editie bekend gemaakt.
Het Gremmin meer. De staalmonsters van het Ferropolis. De 'übergeile' 3 buitenpodia, de strakke binnenzaal. De muziek; Wahnsinn! De perfecte festivalervaring. Dat is Melt! En ook in 2007 laat Melt! bij hun tiende editie zien uniek te zijn als zomerfestival. Met hun compromisloze, veeleisende en vaak gedurfd programma heeft het festival een geheel eigen smoel weten te ontwikkelen. Elk jaar beleven weer 15.000 muziekliefhebbers Melt! en worden verliefd op het Melt!-gevoel. De datum is bekend: 13 t/m 15 juli. De locatie is bekend: nog geen 600 kilometer van Utrecht. Nu is ook een hele zwik aan namen van de line-up bekend geworden!

Melt! is het enige Duitse festival dat indierock verbindt met elektronische beats. Vanaf het begin heeft Melt! bewezen dat de mix van live optredens en DJ's, pop, rock en elektronica een gouden combinatie is. Melt! presenteert gerespecteerde artiesten en talentvolle nieuwkomers. De eerste namen zijn, in alfabetische volgorde:

Abe Duque, Alex Smoke, Anajo, Autechre, Booka Shade, Cereal Killers (Sid Le Rock vs. Metope vs. Ada vs. Jake Fairley), ClickClickDecker, Deichkind vs. Snap! feat. Special Guests, Dendemann, Digitalism, Dizzee Rascal, DJ Koze, DJ Major Taylor, Erase Errata, The Faint, Final Fantasy, Frankie Says: Melt! feat. Rutherford, Gill & O'Toole playing the songs of Frankie Goes To Hollywood, Goldie & MC Lowquie, Goose, Hell, Hey Willpower, I'm From Barcelona, The Jai Alai Savant, Jake The Rapper, Jeans Team, Lady Sovereign, Le Hammond Inferno, Lo-Fi-Fnk, Magda, Marc Houle, Mathias Kaden vs. Onur Özer, Michael Mayer, Motorpsycho, Mouse On Mars, The Notwist, Polarkreis 18, The Presets, Puppetmastaz, Ragazzi, Richie Hawtin, The Rifles, Shitdisco, Shout Out Louds, Simian Mobile Disco (live), Stereo Total, The Thermals, Tiefschwarz, Tiga, Tobias Thomas, Tocotronic, Trentemøller w/Band, Troy Pierce, Virginia Jetzt!, Von Südenfed, Werle & Stankowski, Wighnomy Brothers.

Meer namen worden de komende weken nog bekendgemaakt!

Locatie is Gräfenhanichen in Duitsland, een betoverend decor: het Ferropolis. Een 'city of steel' waar de overblijfselen van bruinkoolwinning te zien zijn door de vijf reusachtige staalskeletten die er staan. En dat allemaal 130 kilometer onder Berlijn. Vanaf Utrecht is het 580 kilometer en met de Duitse snelweg onder de banden ben je er in 6 uur en heb je nog relaxed gelunched ook tussendoor!

Kaarten zijn nu beschikbaar via Ticket Service!

Tickets

Tot 1 juni 60,- EUR excl. servicekosten (inclusief parkeren, kamperen, sanitaire voorzieningen en zwemmen in het Gremmin-meer!) Vanaf 1 juni 65,- EUR excl.

Kaarten zijn te koop via www.ticketservice.nl, 0900-3001250 en alle grotere postkantoren, GWK-kantoren en Free Record Shops.