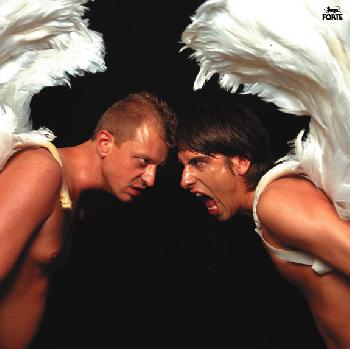 De website van Codec & Flexor biedt de mogelijkheid om je in te schrijven op hun nieuwsbrief. "Waarom?" vroeg ik mezelf weleens af. Na lang wacht eindelijk nieuws van de producers van klassiekers als "Time has changed" (dat eigenlijk geproduceerd was voor een computerspel) en "Black Diamonds" (Hier sloot Michel de Hey vorig jaar nog mee af op FYM) via de email, en wat voor nieuws! Er wordt een aankondiging gemaakt voor hun nieuwe album op Kitty-Yo: "Killermachine". Het album zal eind maart uitkomen , medio maart kunnen we de eerste single verwachten. "Do what you want" ligt vanaf 10 maart in de winkels inclusief een aantal remixen.
Codec & Flexor – Album "KILLERMACHINE"

The new Codec and Flexor album "Killermachine" will be released on Kitty-Yo
records.

Before that the new compilation "Cuts & Pieces" will be out including Codec and Flexor's electro-pop-hymn "I'll be gone".

The first single will be the track "do what you want" plus various remixes. It will be released on the 10.03.2006/Kitty-Cuts.

And on the 24.03.2006 it's time for the new codec and flexor album.