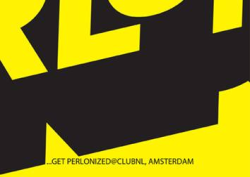 Op 10 februari 2006 presenteren Perlon & Lofar wederom een editie van "Get Perlonized". Na een succesvolle eerste editie met naast de Lofar crew Zip en Melchior Productions kon het vervolg niet uitblijven. Deze keer komen de andere 50% van 'Pantytec', Sammy Dee, samen met Audio Werner naar de NL.
Lofar continues to celebrate its Deutschland connection with the 2nd 'Get Perlonized' event on Dutch soil.

Definitely the most prolific micro house label on the planet, Berlin based Perlon, will once again treat you to a stunning all-nighter of cut-up tech house, diced, chopped & sliced beats, weaved together by fat-ass bass lines.

Roster of performing artists:
Audio Werner [Live] (Perlon, Heartchef Discos)
Sammy Dee (Perlon)
David Labeij (Redevice, Lofar)
Ramchez (Redevice, Lofar)
Pep (Redevice, Lofar)
Teyega [Video]

Like most of you know by now, Lofar has the nasty habit of keeping you on the dance floor till the sun comes up, and this time will be no exception – no plugs will be pulled before 07.59 in the morning!

Details
Date: 10-02-2006
Time: 22.00 - 08.00
Damage: 10.-
Location: Club NL

No presale – no guest list!

Expect sounds and purification towards the essence of soul.