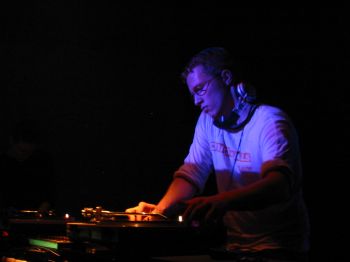 Na veel wikken en wegen heeft minimal DJ Harm Rhebergen ervoor gekozen om verder te gaan onder zijn eigen naam. "Ik vond Spilly niet serieus en professioneel genoeg. Te kinderachtig… Ik zat er al een hele tijd over te denken om een naamsverandering door te voeren maar kon geen geschikt alternatief vinden. Uiteindelijk toch maar besloten om mijn echte naam te gebruiken als dj-naam. Zodoende Harm Rhebergen." Zijn naamsverandering werpt meteen vruchten af, hij wordt resident op een Belgische feest: MINOR MOVES. Een samenwerkingsverband tussen SoundAttack & Polarise.
Two Belgian based techno collectives, SoundAttack & Polarise proudly present you a brand new Minimal-Techno // Click-House concept, MINOR MOVES .
With an everlasting aim towards quality we'll offer you the best dj's and producers you can get in the world-wide mnml scene.

Our Minor Moves residents don't need any introduction:

Harm Rhebergen - NL - Mono
Roebin De Freitas - BE - aka Kemiko Surimi, Polarise
Seba Lecompte - BE - Eukatech, SoundAttack

Every edition these 3 fellows will back up one or more international headliner(s).


First Edition: Minor Moves 16th October 2004 @ Decadance Ghent (BE). With Gabriel Ananda, Veiga, Harm Rhebergen, K-Lee, Shimakum, Seba Lecompte and Roebin De Freitas




BIO VEIGA:

Nathan Roussos, known as Veiga, is one DJ who has a passion for dance music. It was when he moved to Los Angeles at the age of 18 when his knowledge grew rapidly with in the dance scene. Going to illegal warehouse, desert, and mountain raves turned Veiga's lifestyle towards that of electronica. Seeing DJs like BT, Danny T and Ben Sims have really left a mark in Veiga's mind, which has assisted him on his quest for a unique striking sound.
On his return to Australia, Veiga brought with him the intentions of starting a DJ Agency and assisting younger DJs who play the music he loves and has real talent. In 2002 Veiga's dream came true by the first signing of his DJ Agency in Brad Revell. Since then his Agency has grown to where it is now assisting 12 DJs in total and has a very exciting and positive outlook in the future. While managing Brad Revell, Veiga learnt the art of mixing and steadily developed his technique for 8 months. He skills and music became notice at his Funk Fest gig in October 2002. Veiga's love for all styles is apparent when he graces the decks, pounding out a very tribally brand of Techno with African and Latin influences throughout. Being one very particular about his style and technique, Veiga has slowly been making a name for himself in 2002 with gigs at Horny, Expedition and Funk Fest. Veiga has also been asked to make regular appearances at Horny and is a resident of Funk Fest.
Veiga is also the founder and serious pusher of ozSessions and Funk Fest parties, with the focus of bringing 'fun' and fresh DJ blood, sound back to the Brisbane dance culture. This attitude of fun and freshness is definitely noticeable within Veiga and his sets and with a lot of interests being shown around Australia for his services, I'm sure 2004
will be a big year for him.