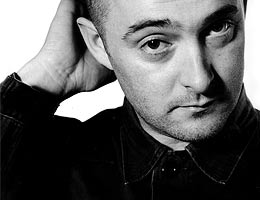 I was born in 1966 in Bournemouth. I grew up in a small village in the New Forest with my Mother, Father and Sister. I went to a Catholic grammar school run by De La Salle Brothers; the education I received was formal, academic and uncreative. I left school with little qualifications.

For the next few years I slipped in and out of employment. I was a Rockabilly barber and played records at parties, though I saw myself as neither a hairdresser nor a DJ.
In 1986 I studied at Bournemouth Art school and in 1987 I moved to London to study at St.Martin¹s School of Art. In 1990 I spent two further years of study at the Royal College of Art.

After leaving college I accepted various design, photography and painting commissions but found working commercially to be incredibly restrictive.

In 1993, somewhat disillusioned with life after art school I began organising one off parties in interesting spaces and then subsequently promoting specific nights in existing nightclubs.

Nowadays, I play records for a living and make visual art in my spare time.
Performances