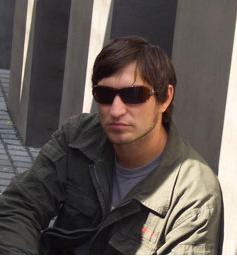 Tom Clark is an integral part of the electronic music scene in Berlin, a city world renowned for its' cutting edge musical output. His label Highgrade Records has helped define a fresh new sound for the city and his own productions and DJ sets have blown up dancefloors worldwide for well over a decade.

An insatiable passion for music was ignited at an early age, with Tom spending any of his spare cash on a wide range of music. For as long as he can remember he has been playing his record collection to friends. Using two tape recorders and a lone turntable he mixed up a fusion of hip hop, rock and disco at his school parties. Black music was to be a defining influence as were the jacking beats of Chicago house and the soulful strains
of Detroit techno. A progression to clubs followed with Tom and a group of friends holding their own night every Tuesday. It was there where Tom was discovered as a DJ and was asked to spin at the many afthourparties being held in the city.

There his reputation grew with clubbers often missing the main event in order to be fresh for his sets. Residencies at the infamous clubs E-Werk and Tresor followed where Tom supported the world's elite of house and techno artists. At the moment he is playing regular at the Watergate Club.

His hectic DJ schedule has had him playing in almost every European country including three tours of Australia, rocking venues as diverse as small intimate clubs to large open air festivals. His sets build gradually in intensity, encompassing a wide range of moods and sounds that showcase his innate sense of dancefloor dynamics. His music style varies between deep minimal tech/house, detroit techno, electro and back to house.

Production of electronic music was a natural progression and in 1997 he co-founded Gold Plate Music, a highly influential addition to the city's label scene. In 2000 Tom went his own way and initiated Highgrade Records.
It was kicked off in response to the perception that the quality of house music had been in gradual decline with the ambitious charter of taking the music to the next level. Although Tom owns and runs the label he envisages it as more of a collective of like-minded artists and Djs whom also happen to be close friends. Although the label is now known as pushing a stripped
back, bottom heavy, house sound expect to hear downbeat and even slightly tougher records encompassing techno sounds on up-coming releases.

Apart from Tom's prodigious output on his own labels he has also recorded for Morris/Audio (releasing his debut album "King Tide" in 2003), Superbra, Rampe D and completed remixes for Alexander Kowalski and D.Diggler garnering praise from the music press and his peers alike. With plans to play live, countless DJ bookings on the horizon and more productions in the pipeline these are exciting times for one of Berlin's
finest.