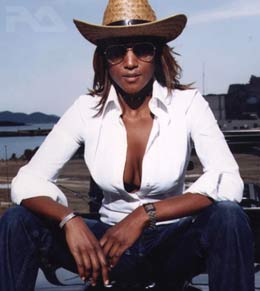 The only female to win DJ magazine's highly coveted DJ OF THE YEAR AWARD, Smokin Jo is one of the most talented DJ / Producers to emerge from the British dance music scene for the last ten years. Jo's undeniably funky and uplifting sound has carved her a niche in club land.

Born Joanne Joseph, Smokin Jo began her career after noticing a distinct lack of female DJs. After falling in love wtih House music and the scene, in 1991 Jo decided to purchase some decks and try her hand at djing. If the men could do it, so could she. While working in the Junior Gaultier shop in Soho, Jo made mix tapes and gave them to friends and customers to see their response. The response was better than expected. Her first entry into djing for real was for fashion parties, which then escalated into her djing for club events. Taking her stage name from the boxer Smoking Joe Fraser, Jo felt it provided ambiguity instead of an obviously feminine name, as back then it was seen as a novelty to be a female DJ.

In the early nineties, Jo was given a chance to play at London's legendary TRADE night @ Turnmills. She absolutely rocked the dance floor and was given a residency that lasted three years. Being the only late night after-hours club in London, Trade became the club that everyone wanted to be a part of.

Amongst the patrons were promoters and DJs who were impressed by Jo's talent and sound.

From there she went on to play at many of the UK clubs Cream, Pushca, Ministry of Sound, Renaissance, Progress, Sign of the Times and Miss Moneypennies. She also played for the infamous Boys Own, Betty Ford Clinic and to a crowd of 30,000 people at Tribal Gathering, where she attributes as one of the most memorable and amazing experiences.

As the scene has changed Jo has changed with it, playing for Tribal Sessions, Shindig, The End, Fabric and not forgetting the residency she held with DTPM. Jo has always been a part of the London Gay scene, where through this she opens doors and pushes boundaries with her audience & music. Due to such high response to her talent, Jo has been able to tour the world with her unique sound. Danny Tenaglia has become a loyal supporter of Jo, regularly dropping her tracks within his sets and inviting her to play at Vinyl in New York alongside himself.

Jo regularly spends much of her summertime living and Djing in Ibiza at Space, Pacha, El Divino and Privilege. This year Jo held a residency for the third year running at Manumission for the entire season, where her dawn sets are legendary. Jo was also the resident DJ for Vivid @ Space, this was part of the now legendary We Love…Sundays at Space, playing alongside Steve Lawler, Sasha, and Space resident Jason Bye on the terrace mixing vocal tracks into tribal grooves.

Jo's international credibility has led her to work alongside numerous celebrities, Djing at The Pet Shop Boys end of tour party, Grace Jones' concert, Skunk Anansies' album launch party, Jamiroqaui's South African tour parties, Todd Terry at The Royal Albert Hall as well as fashion events like Alexander McQueen, Michiko Koshinos and Julian Macdonald after-show parties. She has featured in Brett Easton-Ellis book Glammarama, (Author of American Psycho) and been voted No. 26 in Elle Magazines Hot 100. Her face has also graced magazines like Interview, Glamour, The Sunday Times, Moda, The Independent, The Telegraph Magazine, Esquire, Sky, MixMag and DJ Mag with articles written about her. Jo has also been signed on by Storm Model Agency in their Celebrity Section alongside Robbie Williams and All Saints. Jo was also the face for a major billboard campaign for the Sega video game Mortal Combat. 2002 – saw Jo become the face for Pioneer, whereby she entered into an advertising campaign for HDJ 1000 professional stereo headphones. Joining Roger Sanchez in promoting the Pioneer products to the world.

These days, Jo is concentrating not just in her Djing career but in other related extensions as well. She is signed to Defected Records to produce more tracks and mix CDs, mixing Def com2 and Defected Sessions 14. Jo also mixed a cover mount Cd for Muzik magazine. In addition to her past remixes like Make U Whole by Androncius, High by Hyper-Go-Go, Charlie Big Potato by Skunk Anansie, Jo now produces new tracks, which include Yanu, critically acclaimed by journalists and dj's alike. Psycho Bitch EP, and Fishbone Sleepers with Pete Heller on Junior, which has been a huge success. Danny Tenaglia and BBC Radio One's Pete Tong are huge fans of her work, with regular club and radio play. Smokin Jo released her first internet only compilation in 2002 with TrusttheDJ. Tough, tribal, deep and sexy, SJ01.

Jo entered into presenting in 2002, with TV & Radio. She made her debut as a presenter for MTV: Dance in Ibiza as well as presenting for Radio One at Mardi Gras 2002. Jo was also assigned to do bi weekly postcards from Ibiza for Pete Tong's Essential Selection show. As Jo is based in Ibiza all summer, she was perfect for the role. Delivering back to the BBC studio's the goings on in Ibiza, what was hot and what was not.

2003 – Jo is set to turn another corner in her career, with a new compilation with a LIVE twist, heavier radio commitments and more twisted funkiness with her productions.